"Akron Arlen" Vanke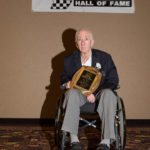 "Akron Arlen" Vanke's racing career parallels the evolution of professional drag racing in the United States. In 1953 at the age of sixteen, the Ohioan entered his first race at the Akron Municipal Airport in a 1940 flathead Ford Sedan. He has been associated with drag racing ever since.
In 1956 Arlen and his father, Lou Vanke, sat down to review the specifications of the new Chevy V-8 and to investigate the potential of the new engine. If the boy was to go racing seriously, he needed a competitive car. They found that, for another $200 over the basic cost for a Chevy coupe, they could have the Corvette options. These options paid off in big dividends as the highly competitive Chevy coupe pulled off 36 straight victories in regional events. In the next few years Arlen's gasser scored very high in national standings.
"In 1962, a friend of mine bought a new 409 and we set it up for local competition." Arlen recalls, "At that time it fell into a new Super-Stock class all its own. We set some pretty wild times with it, but more important than that was the way the crowd reacted to a big mill in a stock bodied car. When ever we pulled up to the starting line, people would flock to the fences to see us run."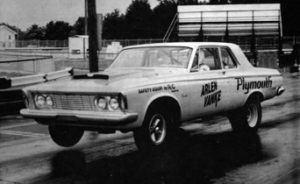 That same year Arlen bought his own Super-Stock Pontiac and acquired a small sponsorship from the Knafel Pontiac dealership in Akron, Ohio. He was running the optional 421 cubic inch Pontiac engine in the aluminum front-end Catalina. National Hot Rod Association (NHRA) had begun their points program and had sanctioned enough races to make a pretty good circuit worthwhile.
General Motors and their programs were rolling along pretty well too, until 1963. "I had reached a semiprofessional status with GM cars and sponsorship. Good parts were pretty easy to get if you were winning." Arlen recalls. "Then one day in 1963 the bottom dropped out from under the GM racing program. Just that morning we had called to order parts from GM, by noon the verdict was made on the 14th floor of the GM building and by 4:00 that afternoon the doors were shut to all GM racers."
After taking a long look at the racing picture, Arlen decided to head for Chrysler. Although Chrysler had previously been the underdog in drag racing, they still valued their relationships with the racers. Arlen invested in two 1964 Plymouths -- a Hemi and a Wedge. The racing and Chrysler's engineering developments were good to him and that year helping him set the A/MP record. But his real Hemi racing success was still to come as during the 1965 racing season, Arlen claimed the Super Stock record only to reset it three more times that year. This car was one of four unique 4-speeds built by Chrysler for racing.
In 1966 Arlen took a job with a friend, Bill Knafel, as service manager of the car dealership. If GM wasn't going to continue to promote the new car sales though racing sponsorship, Bill Knafel was. Arlen took delivery of two new GTO's which Bill dubbed the "Tin Indians". The GTO's ran exceptional well, with three straight class wins and Jr. Eliminator title at the Summernationals at Bristol in 1966. Arlen received a visit by Chrysler engineers who dropped by to find out how they could help him get the Hemi back in competition. This looked pretty good to him now since the GTO's were constantly plagued by parts failure. So he went back to Chrysler.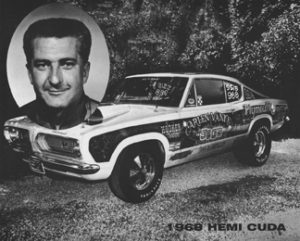 His 1966 Plymouth Hemi was virtually unbeatable. It copped the Division III points victory, won his class at the Summernationals, and a great percentage of his match races. The 1967 Plymouth Belvedere bought for competition the next years, proved to moderately successful, hindered only by its trackside weight of 3800 pounds. The car still recorded class victories at the Winternationals and the Spring Nationals, as well as a moderately good season in the division.
1968 was to be the turning point in his career. His new light-weight Barracuda proved flawless in competition and was probably the best Super Stock in the country. In fact, no one had scored a better record in 1968 than Arlen did. It all began with runner-up to Sox & Martin at the Springnationals at Englishtown, NJ. His performance in the regional circuit was perfect. He also won the Super Stock Eliminator at the Nationals at Indy, the AHRA Winternationals and made it to the semi-finals at the NHRA Winternationals.
Late in 1969, Arlen received a phone call from Jim of AHRA, realizing the plight of the professional racer and the amateur who did not want to race against him, AHRA established a new class for the professional called "Pro Stock" Wally Parks of NHRA quickly followed suit with their Pro Stock Division. Arlen was told by Chrysler authorities, that if he could hold his own a new 1970 Duster and major sponsorship would await his arrival home. This was the beginning of major sponsorship for men like Arlen Vanke and possibly thesaving point for professional drag racing. The new Duster had a much better weight transfer ratio and he quickly became either the winner or runner-up in every national event he ran, plus hitting a .800 batting average in match racing.
In 1970 Arlen became the first man in history of auto racing to win all five SWC points meets wherein NHRA nominated him their "Man of the Year" in Pro Stock besides presenting him with two other national awards for technical merit in engine development. He continued running and winning in the Dusters or Cuda's through the early 1970's.
Arlen owned a summer home in Michigan for a number of years and then in 1989 moved to Onekema.
In 1995 Arlen built a replica of his 1968 Hemi Barracuda, the same car that won the US Nationals. He premiered the New Cuda at the Rubber City MotorRama in 1996. He then went on the racing tour, winning many awards including three class championships.
In 1998 Arlen added a 1965 Plymouth for the Nostalgia Circuit. He finished 5th in the final points for the NSCA Association.
Arlen died in June of 2017 at the age of 80 years old