Larry Aldrich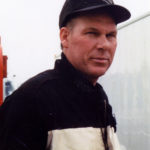 Larry Aldrich was born on May 18, 1945 in Midland, Michigan, and has lived in Michigan his entire life. Like most teens Larry had a lead foot and felt the need for speed. A crabby neighbor lady did not appreciate Larry and his friends racing up and down the roads. She called Larry's mother Faye and voiced her complaint, Faye in turn told Larry that if he insisted on racing he had better take it to a track, so began Larry's racing legacy.
In the summer of 1964 Larry, his dad Laurence, and his brother Don built a car to race at Mt. Pleasant Speedway. Don and Larry were to share the driving responsibilities and the first night was Don's turn. With the pit man calling for the cars to line up, Don was nowhere to be found. Larry climbed into the car for his first race. As he strapped in, with seatbelts hand made by his mother, a lot was going through his mind. The race turned out to be a memorable one as he drove off turn three, cart wheeling through the air. The seat belts did there job and he was not hurt.
Larry married Ruth Ann (Rudie) Wilson on October 2, 1965. She became his life and racing partner. In the early years they did not have a trailer, so with the car in tow, and Rudie steering, they would head to the track.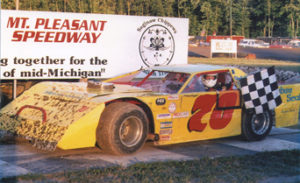 In November, 1965 Larry was drafted and went to serve his country in Vietnam. In April, 1967 he was back in the states and stationed in Chicago, he would drive to Michigan every weekend to race. His father would prepare the car through the week and take it to the track on the weekend, where Larry would meet them.
After the Army, Larry and Rudie had three daughters Kelly (married to Mike Malosh), Lisa (married to Justin Schneider), and Sonya (married to Jason Loose). Racing then became a family affair, as the track just became a way of life for them. Even the racing blood found its way into one daughter's veins; Sonya tried her hand at driving, driving her dad's car in a few powder puff races.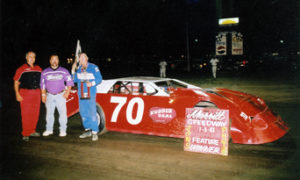 Larry won his first heat race in 1971 at Mt Pleasant Speedway. He won his first ever feature at Merritt Speedway in 1982, while finishing third in the final points. He won again at Merritt in 1983, 1984, 1986, 1988, 2004 and 2005. He also won numerous features at Crystal in 1985. In 1987 he won a feature at Owendale Speedway
Over forty plus years that Larry put into racing, as an owner and driver, he also spent countless hours in his garage to maintain the car and get it ready to race the next weekend. He was assisted at the track, and in the garage, by his wife Rudie, who was never afraid to get her hands dirty, his brother Rick, and long time helper Dave Schuler.
During his career Larry did a lot of racing at the local level. Mt. Pleasant Speedway, Crystal Speedway, and Merritt Speedway, winning numerous features. If you ask Larry what his most memorable accomplishment was he will tell you, "winning a Michigan Speedway Promoters Association Wednesday night show in 1985." The MSPA shows were held at various tracks throughout the state. It was a series that he loved to run and included some hefty competition. It was the best of the best from tracks all over Michigan, and it was an incredible honor to claim victory in that series.
In the 1990's Larry's career took him to other states to race. In 1992 he ventured to Ohio, to Eldora Speedway to try his hand at the World 100. He ran there for approximately five years, although he was never successful at the World 100 he did manage to win some races at Eldora. In 1993 and 1994 he ventured to Cedar Lake Speedway in Wisconsin to compete in th Outlaw Nationals. Since then he has been happy racing Merritt Speedway with an occasional trip to Crystal or Mt. Pleasant where he continued to be competitive, always a force to be reckoned with.
His supported his racing habit as Owner, Driver, Crew Chief, Engine Builder, Car Builder and Mechanic, by spending long hours out in his shop, where he worked as a bump and paint man. This after he put in an eight hour day at his job at General Motors.
With the price of racing rising and Larry wanting to spend more time with his five grandchildren, Chase, Abbey, Jacob, Karlie, and Chandler, he strapped himself into his car for his last race on July 29, 2006 at Merritt Speedway, thus ending a stellar career.