Vic Brinkman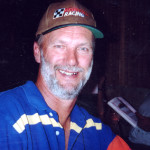 Vic Brinkman from Michigan Center started boat racing in 1958. He's played many roles in this sport, he is not only a driver/owner, but has been a boat builder for the majority of his career. Motor builder/machinist, propeller builder/caster/finishing, designer, race promoter, tech inspector, teacher, and has brought many racers into the sport. He has also been a superior winner, as well as a good sport when he rarely lost.
As young kids, Vic and friends Jack Melling and Chris White would go to Chris' dads garage every day after school from the time that they were very young. It just happens that Chris' dad was one of the pioneers of boat racing as well as a respected auto racer/builder, and Chuck later brought them as a group into snowmobile racing. Somewhere around the age of 12 they all had thoughts of being like Chuck White, and they convinced their fathers to buy them race boats. Along with attending sanctioned boat races, they would stage daily races with buoys, flagman, and the works until the neighbors decided they must be having way too much fun. Seeing Chuck testing on their lake and seeing the things he did in the garage had a tremendous affect on all of them, but Vic was the one who took it, made a lifetime combined career and hobby rolled into one.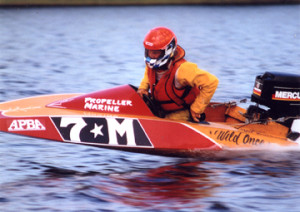 As they got older, this group of about six kids, now young adults, and were still into the racing scene. It was at that time this race group became the Wild Ones Racing Team, and to this day It still exists. You can go anywhere in the United States and Canada, and ask boat racers about Vic Brinkman and the Wild Ones Racing Group and they will know them. This never-ending group has been glued together by Vic Brinkman, and his love of the sport.
Vic's proudest accomplishments (it s hard to name one because of his longevity, would be the fact he has won the short course nationals over a period from 1969 to 2002. It is the longest span in history of the now 100 year-old American Power Boat Association (APBA). Next is the fact he won the 87 mile Top O' Michigan Marathon 13 times with five consecutive wins (this is the Daytona of marathon boat racing).
Other accomplishments include being a 9-time Stock Outboard Division National Short Course Champion, his latest being in 2002. He was a 12-time Stock Outboard Division National Marathon Champion including five-straight (1970-1974). He was a two-time National Stock Outboard Division High Point Champion as well as a four-time Michigan Stock Outboard Division champion, and an eight-time Stock Outboard Division National Marathon champion.
He has won in the following classes. A, B, C, 25 Super Stock Utility/Runabout, Class A & B Hydroplane, and Class A, B and 25 Modified Runabout.
Vic Brinkman has previously been inducted into both the APBA Hall of Fame and the Gulf Marine Hall of Fame.