Jerry Leonard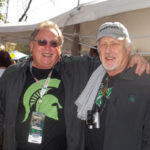 Jerry Leonard first race in Karts was in 1975 at Buchanan, MI, His last race was at Grattan in 2004. He raced for 28 years in various Kart divisions including 100cc Sprint-Stock Appearing, 100cc Yamaha Enduro, F125 Shifter, and F250 Superkarts at the following venues: Wayland, Buchanan, Formula K Raceway, Grattan. Mid-Ohio, Gingerman, Wisconsin's Road America, Michigan Int'l Speedway, Kalamazoo, Galesburg, Flat Rock, and Mottville stock car tracks, as well as street races in Battle Creek, MI and Sandusky, OH, He also ran SCCA events at GM, KVCC, Kalamazoo Central, and South Haven High School parking lots.
He was the Formula K Raceway Points Champion in the 100cc Controlled Stock Class in 1985-1986-1987-1988-1989. He was the WKA District 6 North Regional Champ at Formula K Raceway in 1988, and won 1st Place in the Sprint 100cc Controlled.
He was the Michigan Kart Club Points Champion in 1993 in the 100cc Yamaha Enduro. He won the Dunlop Supernationals 2001 at Road America, and took 2nd in the 125 Gearbox.
In 2000 he suffered serious injuries when he crashed and rolled his kart at 125 mph at Grattan. He had to undergo 13 surgeries.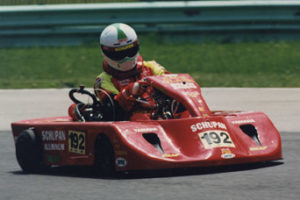 He came back and won the Dunlop Supernationals at Road America in 2004. Plus had a 1st in the 250 Unlimited 1, 1st in the 250 Unlimited 2, and 4th in the 250 World Superkart Challenge.
In 1980 he wrote the hardcover book, Kart Racing: A Complete Guide, published by Simon & Schuster after 11 rejections by other publishers. There were three printings with over 10,000 copies sold worldwide.
Jerry was also Kart Sport Magazine's Promotional Director in 1982
He was on the front cover National Kart News Magazine: June, 1991, April, 1995, April, 1997, and on the front cover of World Karting Magazine: December,1984, January, 1990, as well as being on the front cover of Kart-Tech Magazine: April, 1982.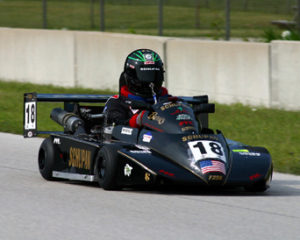 Jerry Leonard worked for Kart-Tech Magazine in 1986 as a free-lance writer covering the United States Formula One Grand Prix in Detroit. He had the privilege to interview World Driving Champions Phil Hill, Mario Andretti, Nigel Mansell. Jackie Stewart, Keke Rosberg, Alain Prost, Niki Lauda, and Ayrton Senna. He also interviewed Elio de Angelis, Gordon Murray, Michael Andretti, Peter Warr, Rene Arnoux, Derek Warwick, and Indy 500 Winners Eddie Cheever, Buddy Rice and Danny Sullivan.
In April 1993, he did a feature article for Time For Kids Magazine.
In March of 1997, he did a feature article in Automobile Magazine.
He appeared on the Schupan & Sons 9-11 Tribute Billboard
He's presented numerous racing/safety-speaking engagements at elementary schools, middle schools, high schools, colleges, and universities throughout SW Michigan
Over the years, Jerry has displayed his race karts at many shopping malls and auto shows in SW Michigan.