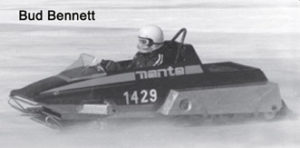 Bud Bennett
Bud started out Snowmobile Racing on the grass in 1968/69 Driving Rupp Snowmobiles for Dell Stone of Stones Sport & Marine. Two stroke knowledge from Go Kart Racing gave Bud an advantage in getting the most power from the engines.
Through the years of 1969 through 1973/74 Bud raced Rupp's with full factory backing. Those sleds included Yankee, Nitros and M8 Gaurs. He built one of the first front engine sleds using the 5R Engine, with Bob Nemicheck, Jim Thornton, Gene Brown, Michigan Cal Ackley and Lyle Forsgree. From 400-800 CC Engines with two, three and four cylinders. Bud raced the Polaris TX399 in several Cross Country events including Grand Island.
In 1968 he had the opportunity to race as a factory backed driver with the Ruttman's of racing and mini bike fame, Troy, Joe and Jim. They were scheduled to go to Soldier's Field in Chicago for a big event, but unfortunately the weekend before Bud cracked a brand new Ski Doo 399 that he was testing for someone. The bolt came out of the handle bar and as he going over a hill on a cross country test course, it came off in his hands and pulled the throttle full open. Needless to say he crashed into a ravine and the steering shaft shattered his knee cap with part of the knee cap lodging into his joint. When Lyle Forsgren left Rupp, he went to Mercury and developed the Sno Twister. He contacted Bud to see if he would be interested in running it for Mercury. He immediately agreed, knowing how good Lyle was at Engineering things! He sent Bud a 400 and a box of spare parts but not too many were needed because it was one of the best sleds he had ever driven. There were very few times that Bud was beaten with this sled, he was making more money racing this sled than he was at his job!
Bud moved on to racing Stock cars on the dirt track in Mt Clemens, Auto City two nights a week and then raced at Clarkes, winning the Michigan Auto Racing Rookie of the Year. He won five Short Track Races the first year including traveling to Sedalia Missouri and winning the Missouri State Fair IMSA 100 Lap Race breaking the Track record of 1 ¾ seconds.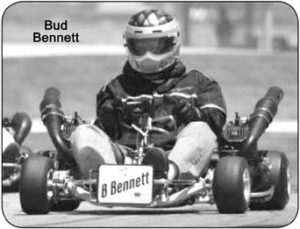 Moving on to asphalt, he raced Flat Rock, Toledo, Delaware CA, Dixie Speedway, Mt Clemens, Owosso, Pocono PA, MIS, Tri City, Auburn and I-70 Speedway. Winning two Championships and finishing second at two other tracks. Bud won over a dozen times during that period. "Bumpy" Buddy Bennett was the model of consistency in 1977, helping him to earn the Late Model Championship at Flat Rock Speedway. Bennett, who bested Joy Fair, Ed Cooper, Bud Pingston, Dennis Pace, Dick Barker, Ray Barnard, Mike Bolick, Steve Bunge and Danny Byrd in the point standings that year, has eight career ARCA-sanctioned Late Model wins, including one at Mt. Clemons in 1974. During his 1977 championship season, Bennett was able to earn 11 top-five runs in 15 events, including five second-place finishes.
Bud has spent the last 25 years building one of the premier Race Car and Restoration Shops in the United States. RM Motorsports has restored more than 100 Race Cars and races at 10-20 Vintage and Historic events a year. Currently running F1 Cars, Stock Cars, Can Am Cars and many more. They have traveled to Europe to race as well.
Racing History
Go Karts
2 Time Winter Nationals Championships
2 State Championships - raced Enduro and Sprints
Snowmobiles
Raced Rupp – Polaris – Brut – Mercury – Manta Snowmobiles
World record in Cross Country riding for Manta
2nd place in the Sno Pro Championship
Track Record 650 Ironwood, 800 Cross Country
Stock Cars
Track Championship at Flat Rock Speedway
Michigan Auto Racing Rookie of the Year
Ran a SCCA Trans-AM Series spec car at the Detroit Grand Prix