Richard Simmons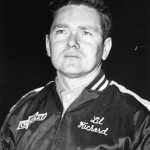 Dick's career of Figure "8" Late Models and Super Six racing changed Michigan's racing. He was known primarily for his abilities in the Figure "8" Events. Dick was a dominate personality in changing Figure "8" racing from a novelty to a action packed event of skill and daring.
Dick Simmons brought national recognition to Michigan's Figure "8" racing drivers. His win on the ABC Wide World of Sports showed a nation wide audience that Michigan was in the forefront of this division. At home his skill and style became the one to copy. He became "the man to beat". He upgraded the standards of the Figure "8" cars and his mechanical ability in car construction became what others would follow. He moved the cars from "junkers" to very specialized racing cars.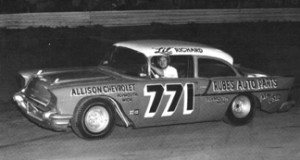 In Super Six Racing action one season, Dick did the impossible as he won every feature race he started at Lansing's Spartan Speedway, Jackson Motor Speedway, and Owosso Speedway. He took his nickname "Lil Richard" and became a crowd favorite.