Mark Cowan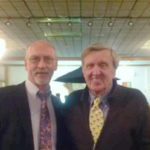 From an early age St. Johns, Michigan's Mark Cowan had a love for motorsports and a passion to be involved in some capacity.
That passion led him to Doc Smalley's garage and the "Pink Panther" #96 team where he spent the late 1970's and early 1980's turning wrenches and helping lead driver Eric Chant to championship runs at both the Ionia Fairgrounds and Crystal Motor Speedway.
An auctioneer by trade, Mark's involvement in the sport took at exciting twist in 1985 when he became the weekly voice of Crystal Motor Speedway. With his clear and fast-pace announcing ability mixed with a ton of humor, Cowan became an instant fan favorite and kept fans entertained thoroughly during long cautions or water truck breaks.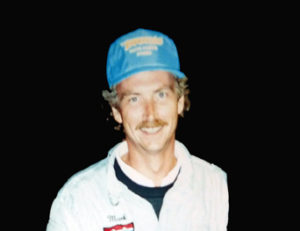 His knowledge of the sport from a mechanical standpoint always meant that fans were educated as to what was happening with competitors while his ability to quickly announce drivers' names, numbers, and even sponsors during green flag racing helped spectators identify drivers quickly.
From 1985 until 1998 Mark announced weekly at Crystal Motor Speedway as well as being on the regular roster for Dealers Choice weekends. Taking only a brief hiatus in 1993 to venture into the world of driving, piloting the yellow #1 IMCA Modified.
Cowan was also a regular announcer at I-96 Speedway throughout the 1990's before I-96 switched to a Saturday night speedway, thus conflicting with Marks commitment to CMS.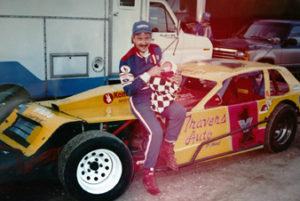 Even though Mark is no longer a full-time announcer he never has stepped away from the sport; a long-time car sponsor, and crew member on his nephew Todd Cowan's #96 Modified; in the new millennium Mark took on the role of Car Owner in the Street Stock division at Crystal Motor Speedway. As a car owner Mark helped drive brothers Kyle & James Prochaszka to back-to-back track championships at Crystal Motor Speedway (2014 & 2015).
Nowadays on summer Saturday nights you will still find Mark at Crystal Motor Speedway, either turning wrenches or occasionally giving the fans a chuckle with some impromptu over the mic humor.
Throughout the week Mark still stays busy with Mark Cowan Auctions, as well as fixing toys and teaching young preschool students all about racing even if while on tricycles with his wife Darlys at Kid Zone Early Education Zone in Clinton County.
Outside of the racetrack Mark & Darlys spend their non-work hours spending as much time as possible seeing their two children morph into successful adults. Mason graduated from the University of Northwestern Ohio and now works at Lane Automotive while Lindy graduated in 2017 from Eastern Michigan University as a Registered Dietitian.
Since 1975 Mark Cowan has been making a huge impact on local racing in Mid-Michigan. His behind the scenes contributions as well as his incredible talent to entertain over the P.A. have made him a valuable asset to racing in Michigan.