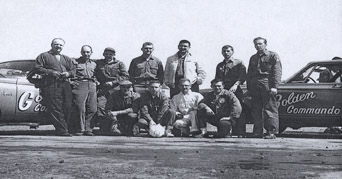 The Golden Commandos
The Golden Commando's drag race club was conceived in 1962 by a group of technicians, mechanics and engineers from Chrysler Corporation Central Engineering Department in Highland Park, MI with each member being a specialist in a given area of expertise including engines, transmissions, fuels, body, and suspension. In October of 1962 the Golden Commando's club began drag racing an early 1963 Plymouth Super Stock Automatic. They stormed onto the Super Stock scene setting low E.T. at Detroit Dragway in their first competitive runs.
They became known as "Detroit's own, Golden Commandos" on radio station ads for local drag strips. The team was sponsored by Hamilton Motors, a Chrysler Plymouth dealer in Detroit, and they set up shop in the dealer's service department. The Golden Commandos set the bar at the track higher each time they pulled off the trailer eventually finishing as runner-up at the 1963 Winternationals in Pomona, CA. They added car number 2m a 426 wedge station wagon that did double duty as the club's tow vehicle and soon became a crowd favorite with class wins at the track before loading up t take the team and tow the super stock car back to Hamilton Motors.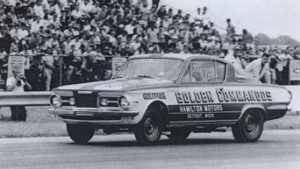 The Golden Commando's momentum continued into 1964 with the introduction of the race Hemi engines. Corporate politics left them out from the select group that received factory Hemi racecars, so they built their own, swapping out a 1964 wedge motor for one of the first drag race Hemi engines. With the addition of an aluminum front end and one off aluminum doors the Golden Commando's car number 5 became a force to be reckoned with as the first Super Stock to break into the 11-second bracket at an NHRA event. Later that summer the Golden Commandos won the notorious "dollar-a-foot" blowout eliminator at Detroit Dragway's World Championship in August beating Don Nicholson.
In 1965, the Golden Commandos fielded their wildest ride yet. The altered wheelbase cars became known as those "funny looking Mopars" or "Funny Cars" as we know them today. The Commando's technology advancements also continued into 1965, as they became the first car running with a fuel injected Hemi engine.
In addition to a potent performance package, the Golden Commandos showed outstanding reliability by not missing a single match race during the season. Not only did they compete in every match race, they won every match race in which they participated in 1965.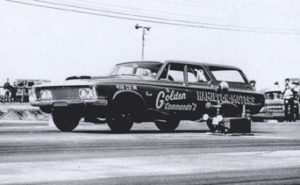 That same year the Golden Commandos showed the drag racing world that anybody can go racing with the introduction of the "Goldfish." An F Stock Plymouth Barracuda powered by a potent 273 cubic inch small block V-8. Featured on the cover of Hot Rod Magazine, the "Goldfish" broke thee AHRA F Stock record their first time it ran. Later that season the "Goldfish" went on to set the NHRA national record and won her class at the U.S. Nationals at Indianapolis, IN.
In 1967 the Golden Commandos introduced their first full Funny Car. A steel bodied "flip top" Barracuda. Sadly, with dwindling corporate support of racing programs, the team decided to cease operations and disband at the end of the season.
Throughout their history, the team members including Carl Anderson, Warren Anderson, Eugene Carrico, John Dallafior, Evan Ericson, Donald Ernst, James "Jim" Hall, Ray Kobe, Gene Meyers, Herman Mozer, Forrest Pitcock, Troy Simonsen, Walter Ulrich, and Bob Wellbaurn had backgrounds which included being engineers, mechanics, lawyers, policemen, truck drivers, and college students, all with enthusiasm, dedication and a willingness to work long hours – after a full day at work and all weekend. Membership in the Golden Commandos was also a family affair as kids ran around in the pits, wives packed parachutes and polished cars.
Nobody realized they were making history at the same time – they just wanted to go racing and win.