Randy Goss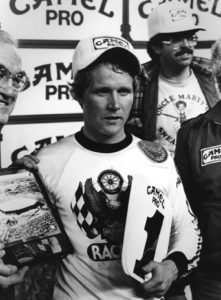 Randy Goss was a two time AMA Grand National Champion in the 1980s and winner of 16 AMA nationals. Goss was one of the top racers for the Harley Davidson factory racing team for five years. Never flashy or outspoken Goss approached his racing in a workmanlike manner, putting in a solid effort every race, but rarely pushing past his limits. He earned the well deserved moniker of "Mr. Consistency".
Goss was born in Hartland Michigan on Jan. 12, 1956. He grew up racing motocross, but tried dirt track racing one day and instantly knew that was the sport he wanted to pursue.
Early in his career, Goss studied under the tutelage of Motorcycle Hall of Famer Bart Markel. He turned rookie expert in 1977 and earned an impressive six top 10 finishes that season. He followed up during his sophomore season on the circuit by earning eight to 10 finishes.
Goss came into his own in 1979. That year he won three nationals, his first coming on the half mile in Middletown, Ny, scored national points in a total of 21 races, and finished third in the final standings. That performance was good enough to earn him a ride on Harley Davidson's racing team.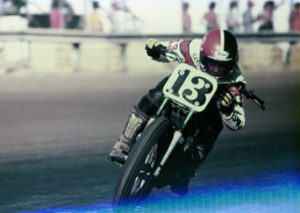 Harley Davidson's faith in the young Michigan rider proved well founded. Goss edged out Hank Scott by one point to win the AMA Grand National Championship in 1980. That season, he finished in the 10 in 19 of 20 dirt track nationals and polished off the year with a win on the San Jose (Calif) mile.
Goss barely missed defending his title in 1981. He was in the title hunt with only two races left in the season, but a faulty bike in his heat race at San Jose cost him dearly. Going out in true style, Goss did all he could to defend the title by winning the final event of the season at Ascot Park in Gardena Calif, but Hall of famer Mike Kidd and Gary Scott both finished in top five at the race and Goss was forced to be content with a third place in the battle for the title.
In 1982 Goss proved his versatility when he won the prestigious Peoria Il. TT race. Ultimately, Goss would win in every form of dirt track racing.
Goss bounced back in 1983 and became only the eighth rider to win two AMA Grand Nationals championships. Along the way, Goss won two nationals and finished in the top five in 17 of 26 dirt track nationals. He was the only rider that year to score points in every race he entered.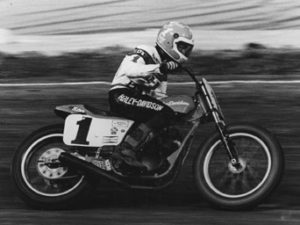 The 1984 campaign proved to be the most satisfying and at the same time, perhaps the most unlucky year for Goss. For once he shed the "Mr. Consistency" title and broke through by taking four national wins and fighting for the series lead when unfortunately things took a turn for the worse in San Jose. Goss was involved in a three rider accident and suffered a broken leg. The injury kept him out of the final four dirt nationals and cost him a shot at a third title.
Popular with his fellow riders, Goss was known for his soft spoken and friendly manner. He might occasionally pull practical jokes on his friends and wife Vicky. Brent Thompson was Goss' longtime mechanic and one of the keys behind his unfailing success.
After his illustrious motorcycle career Goss moved to auto racing and was crew chief for Champion Gregg Biffle in 2000 in the NASCAR Truck series. Randy is also father-in-law to Aric Almirola who is the driver of the Richard Petty Motorsports 43.