Rick Knotts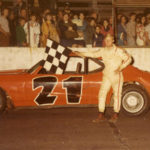 Rick Knotts was born in 1952 and raised in Kalamazoo, MI. At an early age, Rick was taken to the races by his father Dick Knotts. It was during this time with his father that he developed a passion for racing. This tight knit father and son relationship would continue throughout Rick's career.
In 1966, at the age of 14, Rick decided he would like try his hand at racing. Rick and his father began building a 1966 Ford Fairlane racecar. Although he had to lie about his age, to be able to race at the various tracks, his career started at full speed. Rick raced at numerous local tracks including Galesburg, Hartford, Kalamazoo, and Berlin in the late 60's and early 70's. Rick raced full body stock cars and late models throughout his entire career.
Rick played many rolls during this time including, co-owner, driver, mechanic and promoter of the team. As he progressed, he earned the respect of competitors and fans alike. He continued to hone his talent with several feature wins and top finishes in most races. He soon earned the nickname "TRICKY RICKY", because of his slick and winning moves on the track. During the mid 70's Rick was moving up in his career and began entering bigger races throughout the Midwest. He was very successful at this time, usually finishing near the top of most races he entered. This was quite a feat considering he was racing against some of the best short track drivers of all time.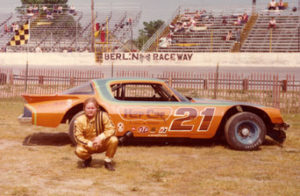 In 1977 Rick decided to enter a season with the American Speed Association. He continued with ASA through 1979 and won the three biggest races of his career during this time. These races included, an ASA race at Winchester, Indiana in May of 1977, an ASA race at Toledo, Ohio in May 1979 and in August 1979 he won the ASA race in Anderson, Indiana.
In 1979 Rick and his father Dick decided to pursue Rick's dream of racing NASCAR. Later that year they took their car to both Michigan International Speedway and the Charlotte Motor Speedway, only to have engine failures at both tracks. In the winter of 1980 Rick and his father decided to go to Daytona International Speedway and give it another try, hoping to drive in the Daytona 500. While racing in the Daytona 125 qualifying race (February 14, 1980) Rick was involved in a tragic accident. Rick lost his life doing what he loved most, racing.
He is sadly missed by his family, his fans, and fellow competitors.