Thomas and Sharon Ledford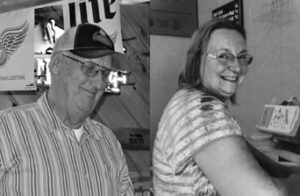 A strong tradition of winning has Thomas Ledford going strong and approaching his sixth decade of drag racing facility management. Born in July of 1940 and growing up in rural Manistee County from somewhat humble beginnings, he developed a strong work ethic and can-do attitude. No stranger to winning; he was the starting shortstop and pitcher on the Kaleva High School 1957 State Champion baseball team.
In 1970, Tom, wife Sharon, and his late brother, Jim and Mary Jo Ledford (MMSHOF Inductee 1999) opened Manistee County Dragway on the family farm north of Kaleva. The track was originally built as a quarter-mile strip and enjoyed a few strong seasons in the early 70's. A few years later, a county road right-of-way issue found the top 300 feet of asphalt determined to be off-limits to use. Coupled with a downturn in the local economy causing low turnouts, the track was forced to close after the 1975 season.
The brothers' partnership ended with Jim moving to Central Michigan Dragway. Tom had to start over from scratch, and re-opened in 1980 as the only 1,000 foot racetrack in the region. By 1983, with the popularity of 1/8-mile racing on the rise, the switch was made to that distance which remains today. By 1983's end, Tom had the idea to seek out another facility. The writing on the wall, at that time, indicated that the Manistee County track wasn't going to make it. He and Sharon visited several vacant facilities including Onondaga, New Baltimore and Tri-City Dragways to see if any potential was there to strike up a lease deal.
He also remembered picking up a time slip a racer had discarded in the pits in the early 70's from a track called Ubly Dragway. Last on the list to visit was Ubly. While the facility looked like a hayfield, having been dormant for several years, it was certainly meant to be. Ubly Dragway owners Arthur and Sylvia Janowiak agreed to a lease deal with the Ledfords that stretched into a successful 24-year period of operation in Huron County. For several years, the Manistee County and Ubly tracks shared the same timing equipment. Tom would even load up equipment after a Saturday race at one track, and make the 3.5 hour drive to the other track to get it operational for a Sunday event at the other.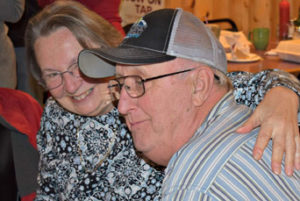 The Ubly track, being closer to the population, became Tom's golden goose and forced a decision to close the Manistee County track again by the late 80's. A group of Manistee County area racers formed an association re-opened Manistee County under a lease arrangement. They changed the track name to Northern Michigan Dragway. The association was able to have several good seasons and make improvements to the facility. In the mid 90's, son Brian was appointed to manage Northern Michigan as Ubly was a full-time operation in addition to over a dozen real estate investments. Son, Wayne and daughter, Tammy picked up manager duties, also the last few seasons at Ubly.
The last 10 seasons at Northern Michigan Dragway have been storybook. Event attendance is at an all-time high and growing at a continued rate. The 2015 Mopars Against the World, the track's largest annual event, drew over 2,600 people. The next year's 2016 event grew to the current record of 3,100 in attendance. At age 76, Tom still leads by example with the same work ethic as ever. Track expansion continues with an additional 30 acres purchased in the fall of 2016. Tom still puts in his signature 60-80 hour work-weeks getting ready for the 2017 season. Many of his hours are spent on his John Deere loader clearing more area for the growing crowd of racers and fans. With many thousands of lives touched, we salute the career of Thomas Ledford, who lives with his wife of 47 years, Sharon in Kaleva. They are able to enjoy the winter months each year in Panama City Beach, FL.