Tom Rosebrugh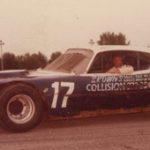 Tom Rosebrugh was born April 25, 1949. He passed away in 2011, and left an impressive racing career behind him.
At the age of 15 in 1964 was his first experience behind the wheel at the American Legion Track in West Branch. Little did he know his career would span forty years. He won features in the 1960's, the 1970's, the 1980's, the 1990's and the 2000's on both dirt and asphalt surfaces.
Feature wins are unsure, but it is safe to say that he is in the 100 plus club. Racing took him many places. Into a lot of different cars, and made him many great friends along the way.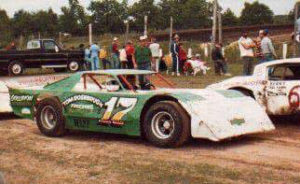 Tom races at numerous tracks in Michigan including; Auto City, Crystal, Dixie, Elmira (Northern Michigan), the Ionia Fairgrounds, I-96, Merritt, M-113 (Cherry), Onaway, Oscoda (Raceland), Owendale, Owosso, Spartan, Standish, Thunderbird, Thunder Road, Tri-City, West Branch, and Whittemore.
Tom has also ran at many out-of-state tracks including East Bay, Jacksonville, Lakeland, the Tampa State Fairgrounds and Volusia County, all in Florida. Plus he's raced at Eldora, Shady Bowl and Wayne County in Ohio. He has also raced at Lernerville in Pennsylvnia.
Track championships:
1977 Merritt Speedway
1982 & 1983 Auto City Speedway
1989 Whittemore Speedway
1991 Standish Speedway
Notable accomplisments:
Several MSPA feature wins
1981 Mudslinger at Fast Time (at Auto City) N.T.R. (borrowed motor from Mike Luberda)
1982 Five feature wins in a row at Auto City
1983 finished 2nd to Ed Howe at the Mudslinger at Auto City
Tom also competed in the Florida Speedweeks in 1980, 1981 and 1990 winning at the Tampa State Fairgrounds in 1980 and setting fast time at Volusia in 1981.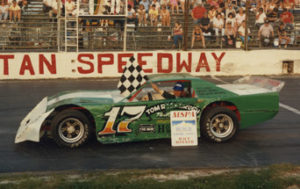 Cars owned and driven by Tom:
First car was a late 1950's Chevy with number 17 on it, which he bought locally.
Early 1970's Chevy he bought from Mr. Brown from Auburn.
1974 Chevelle, built by Jim Davies and friends.
In the fall of 1976 he bought Jim Aldrich's late model.
In the fall of 1979 he bought Ed Howe's DIRT car.
1983 he bought Ed Howe's number 10 (5
th
design car).
In his own shop he built three more Howe cars.
He also owned a Left-Hander chassis, and in the late 1990's, a Port City chassis.