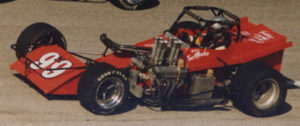 Stickney Racing Team
Todd and Wayne Stickney have been fielding racecars for 45 years. Their #99s have been a familiar site at Michigan, and surrounding states.
1965-1968 Their driver was Larry Clarer. They raced at the dirt tracks of Butler Motor Speedway and Angola (IN).
1969-1972 Kenth Cloffen ran their car at Butler, Angola (which was paved in 1971), as well as the paved tracks of Kalamazoo Speedway, Berlin Raceway and Owosso Speedway.
1973 - saw Marvin Carman run their car on the paved tracks of Angola, Kalamazoo, Berlin, and Owosso.
1974 - Bill Heeney drove their car at Angola, Winchester Speedway (IN), Sandusky Speedway (OH), Owosso, and South Bend (IN).
1975 and 1978 Curt Kelley drove their car at the same tracks that Heeney did, plus at Hartford Motor Speedway, and Salem Speedway (IN). They finished eighth in the SOD points in 1977, and third in 1978. 1975 was Kelley's rookie season as a driver.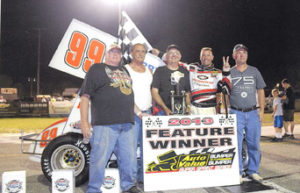 1979 - Mike Shaw drove their car and won the TRI-Sac Championship. They raced at Owosso, Toledo, Berlin, Flat Rock and Toledo.
1980 - Tom Marks drove their #99 at Owosso, Kalamazoo, Queen City Speedway (OH), South Bend, Flat Rock, Spartan Speedway, Berlin, and Indianapolis Raceway Park.
1983 - found Bob Frey running their car part time at Kalamazoo, Sandusky and Flat Rock. He had two seconds that year. Dean Best then took over the ride running at Toledo, Sandusky and Spartan for the remainder of that year and all of 1984.
1985 - saw Tom Marks return and they ran at Kalamazoo, Winchester (where they won three times), South Bend, Salem, and Sandusky.
1989 - Bill Tyler got the nod for Stinkney's car and they ran Sandusky, Toledo, Kalamazoo, Berlin, and they also ran three times with ISMA at Florida.
1991 - Dave Stacy ran their car in his rookie year at the ISMA races in Florida and then during the summer at Sandusky and Berlin.
1992 - Gelen Gilben drove their car to a win at Sandusky. He also ran at Kalamazoo and Berlin.
1998-1999 - Dorman Snyder ran the at Auto City Speedway, Kalamazoo, Berlin, Angola, Spartan, Hawkeye Downs Speedway (IA), Winchester, Springport Speedway, and at M-40 where he won the feature.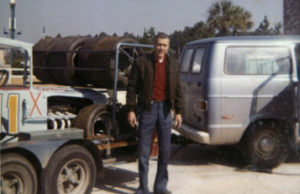 2000 - John Boy Hotchkiss ran their car at Auto City, Springport, and the Indianapolis Speedrome.
2001 - Chris Hayes raced their car at Hawkeye Downs, Kalamazoo, Owosso, Baer Field Raceway (IN), Auto City, Berlin, Delaware Speedway (ON), Angola, and Anderson Speedway (IN).
2002 - Kevin Newton ran the #99 and finished 15th in the points, but only ran a half of the season. The car appeared at Kalamazoo, Owosso, Auto City, Delaware, Flamboro Speedway (ON), Angola, Berlin, Salem, Spartan, and at Baer Field, where they won.
2003 - Newton returned to the car ad won seven heats and one feature, as well as five 2nd place finishes. He set fast time seven times. They finished 3rd in points in Auto Value Sprints that year.
2004 - two drivers ran their car that year. Mike Lang set new track record at Salem at 14.38. He had one second place finish, and four times they finished third. Then Dorman Snyder ran the car and he had two seconds, two thirds and a fourth. The team finished 4th in the final points of Auto Value that year.