Norm Brown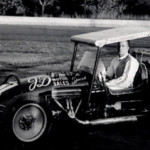 In any motor race there will be, during the course of the event, one or two drivers who capture the attention of spectators. It will be plain to all watching that those drivers are well-suited for their chosen sport. Even though they may not run in front, their performances often overshadow that of the race winner. It is but a basic deduction that with a little better equipment those drivers would be the ones to beat. And with a little luck, they could go to the top of the racing profession.
This is a sketch of the all-too-brief career of such a racer.
Norm was know as "Farmer Brown", while he was learning his craft on the half-mile flat dirt oval at Berlin Raceway. Starting with number 19, a super modified he had built in the basement of his mother's home, he quickly opened the eyes of the Berlin Raceway regulars when he made the "dash" on his third night of racing at this very competitive and extremely treacherous shrine of the open wheel sport.
The thrill of making the "dash" was quickly erased when, after passing two cars in turns one and two for the lead, Norm pitched #19 into the third turn a little too hard and lost it. In less than a pulse beat, Norm and his car were glued to the cement wall that surrounded the track. Brown walked away but #19, twisted and broken, rode the wrecker's hook back to the trailer. Norm has told of his mixed emotions on his walk back to the pits: exuberance at passing the hot dogs and desperate sickness of seeing his work and investment dangling in front of the slack jaws gathering around his pit.
It was probably at this point that something happened in his mind or heart that converted Norm Brown--Farmer Brown--to a lost for anything-else racer, an eat-sleep-think-and scheme racer. For during the following week, Norm worked day and night to return #19 to racing shape for the coming weekend.
For the rest of the 1959 season, Norm raced hard at Berlin, watching other drivers. He learned to set others up to pass, to get through lapped traffic, and anything else he could pick up to "get fast."
During the following season, he was building his new car, and in an effort to incorporate the best points of the fast cars of the time, he studied and even tried to make notes and sketches and take measurements at the racetrack. Norm muses, "I'd gotten run off by darn near every hot shot that ran there."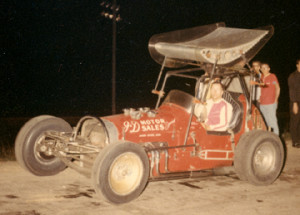 Johnny Johnson (an up-front runner during most of the existence of the 1/2 mile Berlin track) tells of one race night when "Norm came over by my car and started asking some questions. I'm trying to answer him when it dawns on me that I'm following him around the car while we're talking. Then, I notice he's got the end of a tape measure stuck in the sole of his shoe and was holding the other end in his hand next to his leg. He'd skinny up next to each corner of the car trying to copy some measurements."
Johnny got a "hell of a laugh out of this: and, in Norm's words, became "one of the few of those guys that ever offered me any help or advice."
By mid-summer of 1960 after winning two features, Norm's career took a serious setback when the U.S. Army took him to Korea for an extended tour.
In 1962, discharged from the service and his first marriage, he resumed his racing career at the tracks around West Michigan. Beginning with Doug Lang's car, he quickly reestablished himself as a "fearless charger." Norm recalls that besides Johnny Johnson, some of the early role models were Dick Carter and Glen Rocky. By the end of his first post-Army season, Norm developed his driving style to equal or surpass his mentors: Farmer Brown had become one of a scant dozen racers who could gleefully blast through Berlin's narrow cement-lined turns, sometimes scraping the walls, but never lifting that right foot.
Not ever lifting that right foot where a two-foot rise of the track near the end of the front chute would pitch a car violently as it entered the first turn was Norm's trademark. Yes, this was an intimidating track, Jud Larson and Johnny White were two of the few big name racers who ran well on this track, but many good drivers, including the USAC Sprint Division drivers, would come here and suddenly "not feel real racy."
Through the early 60's there were a few drivers who had some success at this track, with superior equipment or novel innovations, such as wings, but by and large, this was a drivers' track and success came with cool nerves, timing, confidence and no great concern for tomorrow.
Norm Brown died at the age of 79 on September 18, 2016.