Larry LaMay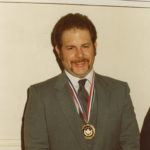 Larry LaMay was born on October 25, 1949 in Mount Clemens, Michigan. He married wife Denise on November 3, 1972, and together they have one son Marc, daughter-in-law Rachel and two grandchildren Alex and Carly. He retired as a millwright from the Ford Motor Company in 2002 and currently works as a trackside product representative for G-Force Transmission/Tex Racing.
Over a 20 year period from 1968 through 1988 LaMay recorded 241 top five finishes in 494 documented career race starts (48.8%) and placed in the top five in points 25 out of 31 occasions (80.6%). He participated in a winning a combined total of eighteen championship - two as a mechanic, two as a car owner, three as a driver, ten as a chassis builder, and one as an ARCA Permatex SuperCar Series crew chief. He drove in Sportsman, Late Model Super Stocks (Super Late Model) and ARCA new car division for numerous car owners and chassis builders. His career was influenced by Michigan Motor Sports Hall of Fame inductees Erv Baumgarten, Ray Nece, Benny Parsons, Odie Skeen and Johnny White.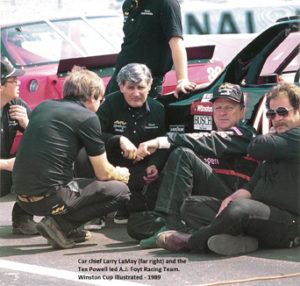 He got his first taste of racing in 1959 as a 10 year old boy tagging along with his "Uncle Jim" LaMay to help out a Super Modified owned by Don Friend. He worked on Sprint Cars owned by his uncle (1963) and Sid Weinberger (1964) and driven by the likes of Johnny Wallace, Gordon Johncock, Sammy Sessions, and Johnny White. He became involved with Stock Cars when his uncle co-owned a 1957 Ford with Vern Windsor, which was driven by Ray Nece. They won championships in 1966 ad 1967. Larry first experience as a driver was in one of Nece's back-up cars at Auto City Speedway in 1968. The next year he competed in the Sportsmen division at Mount Clemens Race Track (MCRT) and won three features in his rookie year and finished 4th in points in that division and 2nd in the Double "O" division.
He then moved up to the Late Model Super Stocks and finished 3rd in points in the 1971 MCRT final points. In 1973 he finished 2nd in points at MCRT to John Anderson. His first big win was the "Labor Day 100" at Mansfield Raceway in Ohio when it was dirt. He was the 1974 Export "A" Racing Series Rookie of the Year in Canada.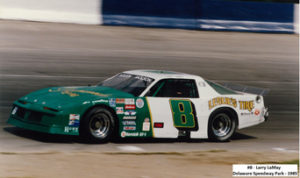 In 1975, while still competing at the local short tracks, LaMay purchased a new NASCAR Winston Cup Series Chevelle and he pieced the car together on a limited budget and in the fall of 1976 he made two Cup starts with a best finish of 16th at North Wilkesboro. He took the car to Toledo one week later and won the "Howard Williams 100". He ran the car twice in NASCAR and 10 times in ARCA in 1977 where he had one win and six top five finishes.
The next year he returned to the local scene driving for Clarence Shaw and they picked-up three feature wins and finished 2nd in the "Tri-Track Series" (MCRT, Checker Flag Speedway, and Toledo Speedway). That year he finished 2nd in MCRT points.
In 1979 and 1980 LaMay dominated at Windsor's Checkered Flag Speedway winning 17 feature races. He won back-to-back driving titles at his hometown MCRT in 1979 and at Checkered Flag in 1980. He won main events in 1981 and 1982 at MCRT, Checkered Flag, and Delaware Speedway Park also in Ontario. He finished 2nd in points at MCRT in '81 and '82. That year he clinched the CASCAR/Craven Super Late Model drivers and owners championship.
LaMay finished 4th in points at MCRT in 1985. The next year he ran a back-up car for Tracy Leslie on a part-time basis until Larry's last race in 1990. In 1988 he was Leslie's crew chief in the ARCA Permatex SuperCar Series and they won two poles and four races on their way to winning the 1988 ARCA SuperCar championship. In 1989 LaMay was honored by the Michigan Auto Racing Fan Club for his efforts. In 1988 through 1992 he was the crew chief for Tex Powell with A.J. Foyt as the driver in the NASCAR Winston Cup Series.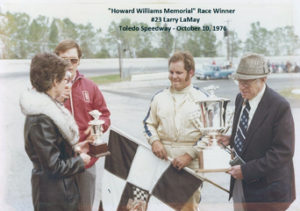 Throughout the years Larry built over 40 racing chassis during his career. His cars accounted for 10 point championships at MCRT from 1976 though 1985.
Still active in the sport, Larry travels to many of the current NASCAR racing venues to perform his job as a track side product representative for G-Force Transmissions/Tex Racing. He attends the annual MCRT reunions and several racing trade shows across the country. His success is not only measured by race wins and season championships, but also by the many "Favorite Driver" and "Sportsmanship" awards that he's received. His lifetime commitment, dedication and continued support of auto racing makes Larry a very deserving candidate for the Michigan Motor Sports Hall of Fame.