Sue Lincoln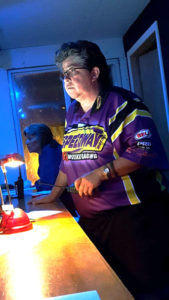 Sue was born in Ionia, Michigan in 1961. She became interested in racing around 1976 when she babysat for Ronnie and Ryan Flinn while their dad and uncle, Ron and Roger Flinn, promoted races at Ionia Fairgrounds Speedway. She began scoring raced at the fairgrounds in 1978 while she was still in high school. She scored from the infield using a clipboard and pen, documenting the cars while they were going around in circles.
Along with learn the business of scoring, Sue helped the Flinn's putting on Demolition Derbies during the Ionia Free Fair.
Through the years, she has working in nearly all aspects of the racetrack from selling tickets, hotdogs and even made popcorn. She answered phone calls, helped with the payroll, cleaned bathrooms, and mowed lawns, all before scoring the events of the evening. And most importantly helping co-workers, drivers, and fans by answering questions, while understanding the sport. If she does not have the answer she will find out for them.
In the time when enduros were popular, she traveled to many tracks and supervised and scored enduros.
During the time that Dick and Pat Beebe were involved with the MSPA., Sue frequently helped Pat with the scoring duties at some tracks during the Wednesday night Busch Series. She and Pat Beebe together scored the first race at Mid-Michigan Raceway Park from the front seat of Beebe's motor home when it was so muddy that they scored based on bent bumpers and dented fenders. No one complained about the finish, so it must have been correct. She learned so much from Pat Beebe. Pat was an inspiration to her. She has benefited in her knowledge from the many different tracks she has worked at. She has scored at Auto City, Berlin, Butler, Cherry, Crystal, I-96, the Ionia Fairgrounds, Kalamazoo, Merritt, Mid Michigan, Mt. Pleasant, Tri-City, Owosso, and Thunderbird, all in Michigan. She has also scored at Angola, Baer Field, South Bend, and Winchester in Indiana
She scored many Dealers Choice's. Beginning the year Dealers Choice moved to Crystal Motor Speedway and worked every one until the end. Some times she would go to the tower at 10 am and not come out until the wee hours of the following morning.
Sue worked for about three years with the Auto Value Super Sprints. The fastest race she thinks she has ever scored was at Spartan Speedway with AVSS. 20 cars started and ran thirty laps in about 8 minutes, with only 2 or 3 cars left on the lead lap.
She has scored everything from sprints and midgets and stocks, to motorcycles and quads.
Some tracks she has scored for multiple promotors at the same track. (for example - she has worked for every promotor at the current I-96 since Flinn's ran it - Flinn's, Batista's, Slager's, Chapko, and Mouch).
She currently works at Crystal Motor Speedway and claims that she will continue as long as her eyes and hands hold out. She's been working in the sport for 40 years.
Sue also serves as the secretary of the Michigan Speedway Promoters Association