Ron Mancini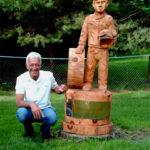 Ron Mancini was born in Detroit, Mi in 1939. He first became interested in Drag Racing by competing in local drag races at Motor City and Detroit Dragways from 1963 through 1966. During this time frame, Ron hired into Chrysler in 1963 as a Transmission Tech, Automatic, Manual, and Clutches groups, and later transferred to MoTech as an instructor in Drive trains.
In 1966, he was encouraged by his Uncle Dan Mancini, one of the key members of the fabled Dodge Drag Racing Team, The Ramchargers, to pursue racing in the NHRA Super/Stock division. Ron's beginning venture into this realm of Drag Racing was with an aluminum front end 1963 426 Max Wedge Plymouth, which he first began campaigning in 1967 at an NHRA World Championship Series Points race at National Trail Raceway, Columbus, OH. Ron won that event, his first major race, and then went on to win the 1967 NHRA Division Three Super/Stock Season Championship. Also in 1967, Ron competed in his first ever NHRA National Event, the NHRA SpringNationals at Bristol, TN. In his first National event appearance, he garnered the Runner-up spot in Super/Stock to the legendary Ronnie Sox of Sox & Martin fame. In addition, Ron set both the SS/BA and SS/CA NHRA National class records with the '63 Plymouth in 1967.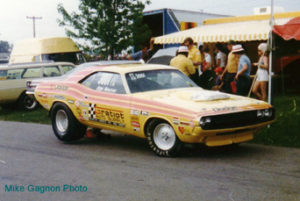 As Ron advanced in his career, he accumulated a number of other major accomplishments:
1968: NHRA National record set in the SS/EA class with a '68 Dodge Dart 440
1969 Popular Hot Rodding Magazine Nationals at US131 Dragway, Martin, MI. Class Champion and Overall Super/Stock Eliminator Champion
Also set the NHRA SS/DA National class record with a '64 Dodge Coronet Hemi that year.
1970 NHRA SummerNationals, York, PA. Class Winner and Overall Super/Stock Eliminator Champion with his 1968 Dodge Dart SS/AA Hemi.
1970 NHRA U.S. Nationals, Indianapolis, IN. Class Winner and Overall Super/Stock Eliminator Champion with his '68 Dodge Dart SS/AA Hemi. Ron set the NHRA National class record that year also in SS/AA.
1971 NHRA SuperNationals, Ontario, CA. Class Winner and Overall Super/Stock Eliminator Champion with his SS/A '68 Dodge Hemi Dart, now with a 4-speed manual.. Also in 1971, Ron set the NHRA National record in SS/A with the Dart.
1973 NHRA SummerNationals, Englishtown, NJ. Class Winner and Overall Super/Stock Eliminator Champion with the SS/A Hemi Dart.
In 1976, while competing in the Modified Eliminator category with a B/MP Dodge Dart at the NHRA U.S. Nationals at Indianapolis Raceway Park, Ron suffered one of the most horrific crashes in Sportsman Category drag racing history. He spent three grueling weeks at a hospital in Indianapolis, after which he was transferred to Henry Ford Hospital for three more weeks of painful skin grafts and a long recovery thereafter.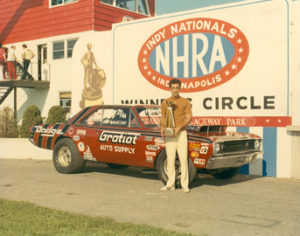 After this, Ron walked away from the sport until 1990 when he decided to try his luck at competing in the National Muscle Car Association events. He got right back to his winning ways by capturing the 1990 NMCA Super/Stock championship. For 1991, Ron stepped up to the Pro-Nostalgia category, setting the class record that year. In competing in the finals at Memphis, TN in 1991, his engine blew causing a big engine fire. Ron decided he had tempted fate before, and called it a career.