John Gerald Skiba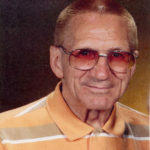 John Gerald Skiba was born in Detroit, MI in 1941, but his formative years were spent growing up in the Grand Rapids, MI suburb of Wyoming. When John was 14 years old, he acquired his first car, a 1930 Model A Ford, which he rebuilt himself. At age 18, his next rebuild project was a 1953 "Misfit" Ford Business Coupe. After high school, he went to work in the tool & die trade for two years, gaining valuable experience. After that point John joined the firm of Grand Rapids Electronic Balancing, specializing in nearly everything regarding high performance engine machining and building, especially crankshaft balancing. He developed a respected reputation. During his time at GR Electronic Balancing, he became acquainted with an up and coming Funny Car racer from Lansing, MI, Dick Loehr. This was in 1964.
John joined forces with Dick Loehr in 1965, campaigning the Max Curtis Ford Mustang "Stampede" Funny Car. John would remain Loehr's crew chief throughout his Drag Racing career. Some highlights of their years together include:
In 1966 they won the Drag World Magazine Funny Car Invitational at Kansas City International Raceway.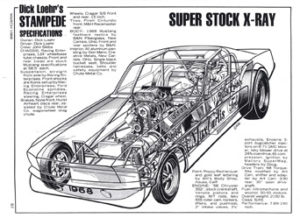 In the early season of 1968, they broke into the 7-second zone by setting the track record at Irwindale, CA. They ran a 7.90 ET @ 179 mph.
John and Dick topped off their '68 season with wins at the Hot Rod Magazine Championships at Riverside, CA, and the Individual title at the Orange County, CA Funny Car Team Championships.
In 1969 under a sponsorship with Chapman Automotive, they won the AHRA Grand American Nationals at Detroit Dragway. Also in 1969, they competed at the U.S. Nationals, running a 7.35 ET, and they broke the track record at the Martin, MI, U.S. 131 Dragway with a speed of 202.78 mph.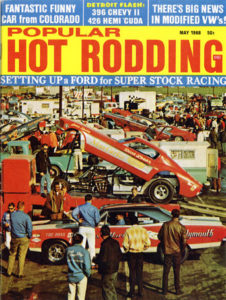 In 1968, Super Stock and Drag Illustrated magazine noted, "John Skiba, Loehr's right-hand man…a prime example of a Number One mechanic on a rough car, the match race stocker." In the same article, Dick Loehr quipped, "John takes care of an engine the way a doctor takes care of a patient. The engine comes apart every week just for precautionary measures."
By 1969, John was really wringing out the highest performances from his engines. This was their best season to date with the Funny Car, and Popular Hot Rodding Magazine described John Skiba as "possibly Loehr's greatest asset." John was responsible for the preparation of the engines and the entire drive train, and unlike today with so much computer analysis available, all this had to be achieved with time-worn traditional methods. Hard work, experience, and good manual math skills were required to make the adjustments that would result in positive gains.
In 1970 they elected to move into the then-newly created category of NHRA Pro Stock, when Ford Motor Co. picked the Loehr/Skiba team for one of three Factory-assisted Pro Stock teams. The two others in that program were Hubert Platt (East Coast) and Ed Terry (West Coast).
Throughout their racing years, John and Dick worked directly with many drag racing/auto industry experts, gaining much expertise. Ed Iskenderian, Van Luuvan, Art Carr, and Edsel Ford II were among these personalities. When they were not racing, Skiba and Loehr visited Ford dealerships throughout the Midwest, giving seminars to promote Ford High Performance parts.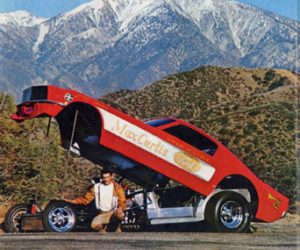 In 1971 Ford cut back on their existing racing programs, and this is when John and Dick went into business together. First, they engaged into a motorhome dealership where John ran the service dept. Later, they transitioned into a multi-product car dealership. John developed the service department to operate at a high efficiency rate using a team concept.
In later years after they sold the dealership, Dick moved to Florida, entering into new business ventures. Dick Loehr succumbed from prostate cancer on May 13, 2008 after a 10-year battle. John had entered into truck driving, but after several successful years, he had a serious and disabling accident resulting in a traumatic head injury. While recovering in a rehab hospital in Grand Rapids, his wife Diane brought him many of the drag racing magazines in which he was past-featured to help him "rediscover" his identity. It had helped tremendously in his on-going recovery. John Skiba retired and resided with his wife Diane on a lake in Portage, MI until his death in 2015. (1941 - 2015)