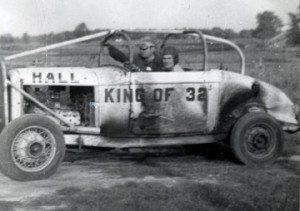 Clifford Burkholder
Clifford "Porky" Burkholder was born in 1927, in South Bend, Indiana. Little did Clifford, at age twelve, realize that what he was seeing and experiencing at Playland Park in South Bend, would help him to shape the future of auto racing, in Northern Michigan.
Clifford learned to drive racecars at the South Bend track in his early teens. This experience came from behind the wheel of a Midget racecar owned by his cousin, who as Clifford said, was a "Barnstormer" in the early days of racing.
During the 1940's Clifford moved to Northern Michigan. He noticed there were no racetracks to be found. He said, "Let's build a racetrack for cars." His friends looked at him with a sullen grin and said, "What did you say?" Clifford replied, "A race track for cars, like South Bend has." Thus the Whittemore Speedway was born. The first racetrack in Northern Michigan.
Auto Racing grew very popular in the area because Clifford carried the spark that led to auto racing facilities being established in Alpena, Mancelona, Bellaire, West Branch and Rose City. Clifford would race at these tracks for no pay. All he wanted to do was create interest in auto racing. He had a burning desire to keep the racing fever alive in Northern Michigan.
For Clifford this was just the beginning. Due to his past midget racing experience, a sponsor and mechanic approached him. Together they created a combination that was hard to beat. They stressed the importance of balancing a motor as their fellow competitors listened on. Clifford promoted the idea of having your racecar professionally painted. Clifford's philosophy was to share your experience with your competition, it makes for better racing after all, that's what the spectators want.
Clifford also played a role in convincing other drivers in the area to start racing at Dixie Motor Speedway, Auburn Speedway (Tri-City Motor Speedway), American Legion Speedway, and Owendale Speedway (now called Silver Bullet Speedway). This group of dedicated drivers would race for "no pay". This enabled these new tracks to have good car counts in their early years and become permanent speedways. Today, all but one of the speedways is still in operation. Clifford's desire to promote auto racing reached out much farther than his local speedway. His desire for auto racing prompted him to give Northern Michigan exposure to the Midgets. This event created so much spectator interest that auto racing was deeply entrenched as a fast growing sport.
Clifford's driving career lasted 15 years. He concentrated on competing at Dixie Motor Speedway, West Branch and Whittemore Speedway, although he also competed at Galesburg, Owosso and the Saginaw Fairgrounds. He won 130 feature races, and numerous mid-season and season championship races, while also holding many records for fast qualifier.
Clifford and fellow competitor Rick Zettle were instrumental in using oil rather than water to make a dust free speedway. Clifford started maintaining the racing surface and took great pride in preparing a dust free speedway. Later Clifford became their manager of Whittemore, holding that position for many years.
The driver he most respected, while competing against was Johnny Roberts, Sr. Clifford's best racecar was a Midget owned by Larry McCloskey.
He remembered fellow racers and fans giving him a new racing helmet, the same style that drivers wore for the Indy 500. He was well acknowledged as a true leader in the sport of auto racing.
What Clifford remembered best during his years of involvement, not the championships he could lay fame to, but getting donations for the people in the area that had polio. He also spent much of his time and energy taking handicapped individuals to town on Saturday afternoons to watch the races. Truly, this individual did give very much of himself for auto racing.
Clifford passed away in December of 1995. He may be gone, but we remember the Gulf Oil Orange #32.