Danny Byrd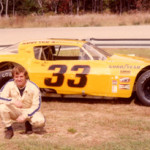 Danny Byrd was born in Dearborn on August 3, 1935. He lived in Michigan most of his life. He was married and has two daughters, Denise and Sherry.
His initial interested developed after attending the USAC race at the Detroit Fairgrounds with older brother Hubert Byrd. Danny would later visit Flat Rock with friend Glen Sweet. They decided to build a car together with Sweet being the owner and Byrd the driver. The hot ride for the time was a Hudson Hornet. Well the pair built a Hudson, but the wrong one, not a Hornet. They ran the Hudson until they built a 1954 Dodge and were on their way to winning.
He competed in first race in 1958 at Flat Rock Speedway driving for Sweet. His last race was at seasons end at Toledo in 1979 driving for Stan Yee. He raced Late Models, ARCA New Cars and NASCAR Grand National Stock Cars throughout career.
In the 1960's he made several ARCA new car starts in the 1960 s. He made five NASCAR starts in the 1965 driving a Ford for Sweet and sponsored by Walt Hickey Ford in Southgate Michigan who was a longtime sponsor of Byrd. Danny's career best NASCAR finish was a fifth at the Asheville-Weaverville 200 lap race. Danny was a longtime Ford campaigner starting in the 1960 s. Byrd ran his famed Edsel from 1962 throughout the middle 60's winning features at such tracks as Flat Rock, Toledo, Dixie, Spartan, Detroit Fairgrounds, and Mount Clemens.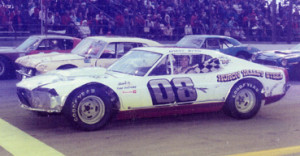 In 1965 Byrd won his first of three track titles at Toledo. During 1964 and 65 seasons Byrd captured several 100-lap invitationals at the now defunct Detroit Fairgrounds. He later made a switch to a Ford Starliner, which was always neat in appearance and tough to beat. The Ford products propelled Byrd to the Mount Clemens track title. The year was not verified. He won the second annual MARC Times 100 lap Invite at Flat Rock Speedway in 1968.
Byrd switched to Chevy products and new owner William Hill. Byrd drove for Hill from 1971 through 1973. Byrd experienced some of his greatest success with Hill taking Track Championships at Toledo and Flat Rock in 1973. Byrd listed his biggest win being the1972 Glass City 200 leading entire event flag to flag against a star studded field. Other big wins during Hill ownership include 1972 Wolverine Challenge Cup 100 at the Owosso Speedway and Berlin Raceway Coca Cola 100.
In 1974 Byrd returned to Ford products campaigning a slick looking Tom Pistone built Mustang. Len Fritz from Huron Valley Steel owned and sponsored Byrd's ride through 1977. The Mustangs were fast but sometimes unreliable still Byrd managed to pile up wins throughout the ARCA circle of tracks.
Late in the 1977 season the potent #33 Stan Yee ride was vacated by Art Sommers and Byrd jumped into the seat. The 1978 season was one of Byrd best ever driving for Yee. Numerous feature wins were credited to Byrd but it was the late season specials that the duo excelled in. The second annual Marty Robbins 500 was to be Byrd's second biggest win. Byrd set fast time on the fast Nashville oval and proceeded to stomp the field for the huge win! Byrd followed that up with setting a new track record at the Hartford Speedway for the annual Hartford Graduation season final. Byrd lept from the pole in the first leg and lapped the entire field winning in dominant fashion. The 1979 season would be Byrd's final. He finished strong with big wins including the first leg of the Mt. Clemens 200 and The Michigan Speedway Promoters Association (MSPA) race also at Mount Clemens.
Danny Byrd was one of smoothest drivers ever to get behind the wheel of a racecar. His ever-present #08 graced the sides of most of his machines, which were always neat and colorful in appearance. He had over 200 career wins 29 at Flat Rock, 27 at Toledo over 30 at Mt. Clemens on both dirt and asphalt. Other wins were at Spartan, Berlin, Owosso, Dixie, Detroit Fairgrounds, Hartford and Checker Flag Ontario. He won track championships at Toledo in 1965, 1973, and 1978, and Flat Rock in 1973, as well as Mt. Clemens on dirt in the 1960's. Danny retired early and not by his choice, as an accident in a passenger vehicle caused him severe back pain, which led to him vacating the seat for good.
He will always be remembered on the ovals of the Midwest as a hard charging competitor!