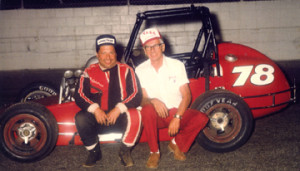 Jack Calabrase
Jack Calabrase started his driving career in the early 1960's at Spartan Speedway driving a Henry J stock car. He switched to midgets in 1966 and came into his own in the 1970's.
He was once offered a ride for the "Indianapolis 500" but turned it down as his regular job as a physical plant electrician at Michigan State University was too important to give up for a maybe ride.
Over the years Jack has driven a variety of different types of oval track cars including Stock Cars, Midgets, Sprint Car, and super modifieds.
The Lansing resident won the "Night before the 500" USAC midget race at the Indianapolis Raceway Park in 1988 as well as a ESPN televised event at the same track later in the year. Jack's beautiful midget made the cover of Open Wheel Magazine in December of 1988.
Jack has raced in 23 different states and also in Canada at numerous tracks including 19 in Michigan and 24 in Indiana. He has won the Michigan State Midget Championship twice. He was the American Midget Racing Association champion in 1984 and the World Wide Auto Racing champion in 1986.
Jack has also run the "Little 500" four times with his best finish a fourth. He has raced Midgets at such famous tracks as Phoenix Int'l Raceway, the Milwaukee Mile, and the Houston Astrodome where he raced against such nationally known stars as A.J. Foyt, Mario Andretti, Johnny Rutherford, and Bobby Unser.
Jack Calabrase became a promoter as he resurrected the annual midget races at the Manistee County Fairgrounds in Onekama. He also promoter numerous indoor midget races.