Fred Campbell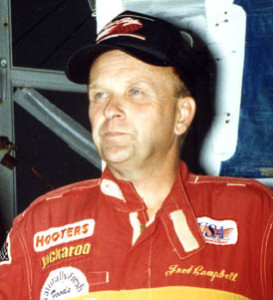 Fred Campbell started racing at Galesburg Speedway in 1970. He has since amassed a tremendous record of eight Berlin Raceway championships in the Super Late Model division as well as being a three-time champion at Kalamazoo Speedway. His titles at Berlin came in 1979, 1980, 1981, 1982, 1987, 1988, 1990, and 1991.
Fred also has the distinction of being crowned a Iceman Series Champion.
He has had over 200 career wins in his career including the ARTGO race at Berlin on May 22, 1989. He also won the Hooter's race at USA International Speedway in Lakeland, Florida in 1996 and a Colorado Challenge Cup win at Colorado National Speedway. he was driving the Port City house car on the last two occasions. Fred was born on October 15, 1952 and lives in Battle Creek with his wife Becky. They have two children Brian and Eric.
Driving the house car of Port City Racing, Fred Campbell had another exceptional year as he won the point championship for the Iceman Series and also won the prestigious "Main Event" at Columbus.