Marv Carman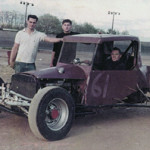 Marv Carman's auto racing career started in the nineteen-sixties when he and Harold Reynolds owned a race car, with Reynolds driving it. Carman then began driving, but had limited success until he got his first break when he began driving Ed Worster's sportsman class car which was a first-class ride. With Charlie Rhodes turning the wrenches, they did very well together winning both the Butler and Manchester season point championships in 1970.
The next year, they added fuel injection and some other goodies with the result that they won the season point championships at both Avilla and Angola in Indiana.
TRI-Sac was formed in 1972 consisting of super modifieds and sprint cars with wings. Marv Carman was its first president and in Worster's car with Rhodes as his crew chief they won the first TRI-Sac point championship.
The following year Marv started driving for Harry Stickney and they won four races in a row (South Bend, Hartford, Kalamazoo, and Berlin).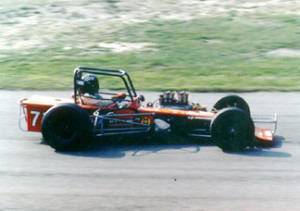 Max Dowker put Marv into his slick roadster in 1974 and they began traveling, going as far as New York. Carman was red hot that season. The team of Dowker, Carman and Rhodes won the Cavalcade in Sandusky, Ohio and the Winchester Snowball 50 in Indiana. Enroute Carman won his second TRI-Sac championship.
In 1975 they won the twin 50's at Winchester running with USAC and set a new world's record in time trials at 16.036. He also set a record at Birmingham, Alabama. Carman went on to claim the USAC Rookie of the Year. At the end of the year they won the Snowball at Winchester a second time.
In 1976 they continued racing in USAC and set another record at Winchester, breaking his old record. They also set a new record at the Indianapolis Raceway Park.
In 1977 Carman became chauffeur for Lyle Roberts. One pleasant experience that year had Marv Carman had winning a USAC Silver Crown race at the Minnesota State Fairgrounds and was interviewed by Chris Economaki.
Between 1981 and 1986 Carman ran for Cal Smith. Their highlights included winning the prestigious Little 500 twice (1982 and 1983). They also ran with USAC and the World of Outlaws, plus numerous open competition events.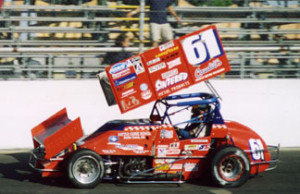 When Marv decided to hang up his racing helmet, he became the mechanic on various super modified and sprint car teams. During his driving career Marv drove at fifty-four different race tracks.
Then in 1996 he became a car owner again when he bought a sprint car. Mike Ling won four straight races in Marv's fleet Sprint Car in 2001. Two years later Jason Blonde won the Auto Value Sprints season championship in Carman's car. Carman continues as a successful car owner as Mike Ling won a Berlin Raceway feature in Marv's sprint car in 2010.
Marv died of cancer on September 18, 2017 (1941 - 2017)