Dan & Frank Parker
Dan and Frank Parker are best known for their NHRA Top Alcohol Funny Car success from 2001 to 2011, but their love of racing began much earlier. 2017 was the 50th year they have raced together.
Born in Detroit, Dan's interest in cars really grew when he received his learner's permit at 15. His wheels were his mom's 1955 Mercury with a V-8. When he turned 16, it became his car. Like so many young drivers, he was hard on it and blew the engine. After wearing out the replacement engine, he came upon a specially built experimental 468" Mercury engine and bought it for only $50.00. Racing against cars and motorcycles, the unassuming Mercury was undefeated except for one race against a '57 Desoto with a dual quad Hemi.
In 1958 Dan entered the U.S. Navy. While serving in Savannah, Georgia, Dan met his future wife, Rosemary. They soon married and started a family. Dan used his poker playing skills to help support his racing interests and growing family. Daughter Cyndy was born in 1959 and son Frank came along in 1962. While still stationed in the south, Dan won a substantial poker pot from his Navy buddies. He took the winnings to Detroit and bought Dick Jesse's 1961 Royal Pontiac Catalina Super Duty, a 389 tri-power car. He drove it back south to be his daily driver and occasionalrace car. With Rosemary as his crew chief, he humbled the local Ford and Chevy racers.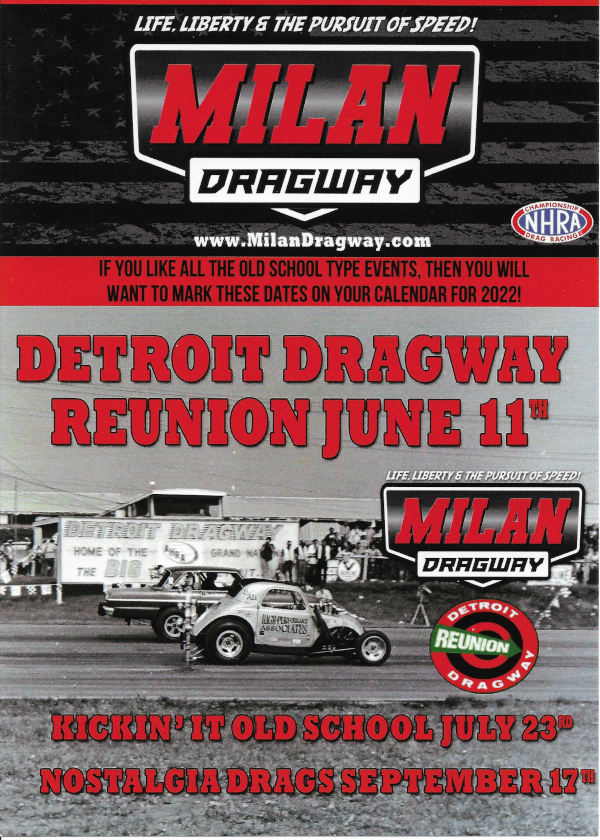 Following Dan's Navy service, the family returned to Michigan, settling in Westland. Dan traded the Super Duty for a more practical family car. Still feeling the need to race, he bought a Fiat Topolino body and built his own chassis in 1967. The Fiat was raced every weekend with a 289 Ford. The Ford was replaced by a small block Chevy and the car began a winning streak. While racing the Fiat, Dan joined the High Winders car club and met Joe Liberty, who would later become famous as the guru of racing transmissions. In 1972, with a Hemi now in the Fiat, Dan expanded his racing efforts to NHRA's national circuit. At the Summernationals, in Englishtown, Dan won the B/Altered class for his first National win.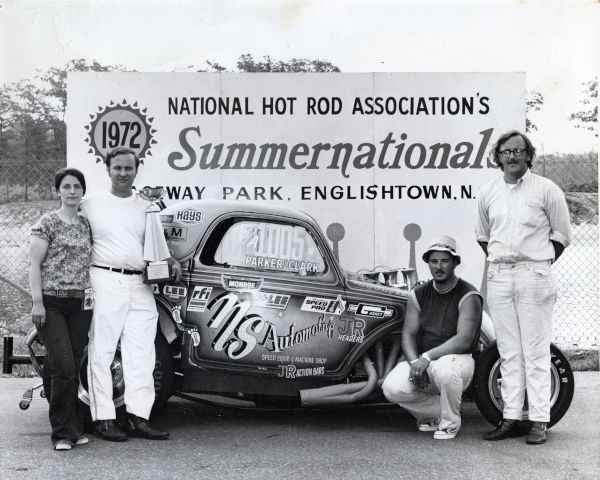 Gil Kohn, owner of Detroit Dragway, had a fleet of exhibition funny cars to entertain his spectators. Dan picked up one of those chassis without a body. This chassis was fitted with a Bantam body. A Chrysler Pro Stock Hemi was prepared to be more competitive in the B/Altered class. In 1975, Dan took the new Bantam to Rockford, Illinois, along with his High Winders clubmates, for the Gas Coupe and Sedan Nationals. Over 170 cars showed up. At that time, High Winders Dan, Joe Liberty and Carl Holbrook were all sponsored by Mayfair's Hi-Po Shop in Taylor, Michigan. Carl won Super Stock and Dan was runner-up in Competition Eliminator, a nice payday for the club. Dan's friendship with Joe led to a sponsorship and assignment as the development car for Liberty transmissions.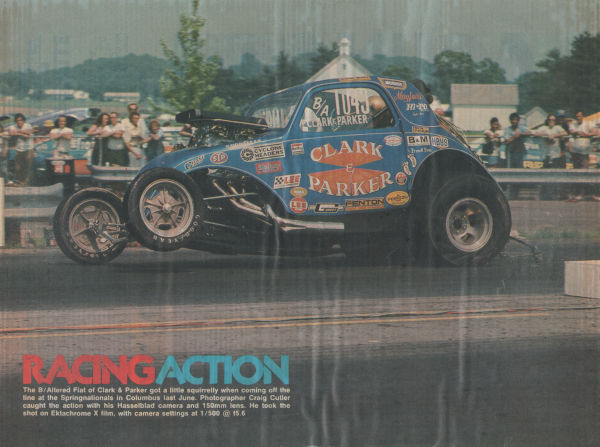 The Parker family team continued to race the altered at local and regional events, setting the record in its class and winning the 1975 track championship at US 131 Motor Sports Park in Martin, Michigan. Rosemary, Cyndy and Frank all continued to develop their roles on the team as the number of races increased. All the while, Dan pursued his career as an electrician at General Motors.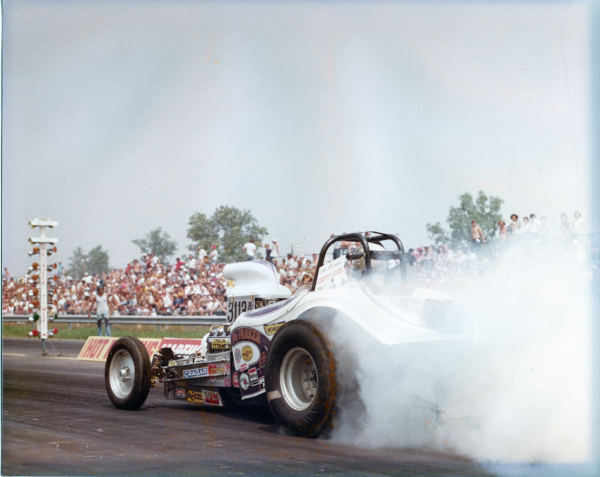 Things really picked up in 1976 when Dan and family partnered with Gary Reuter and the Krebaum brothers to run their new S&W Chassis built A/Dragster. With Dan's Hemi knowledge and driving skill, the car became an immediate contender. The team won their first race at the St. Thomas, Ontario NHRA points meet. After winning four of the five divisional races, the team was crowned NHRA Division 3 champion. To top it off, the team set the NHRA National Class Record. In 1977, Dan bought out his partners and asked his 16-year-old son Frank to become crew chief. Cyndy and Rosemary continued as the crew, along with new members Rob Cunningham and Chris Fiddler.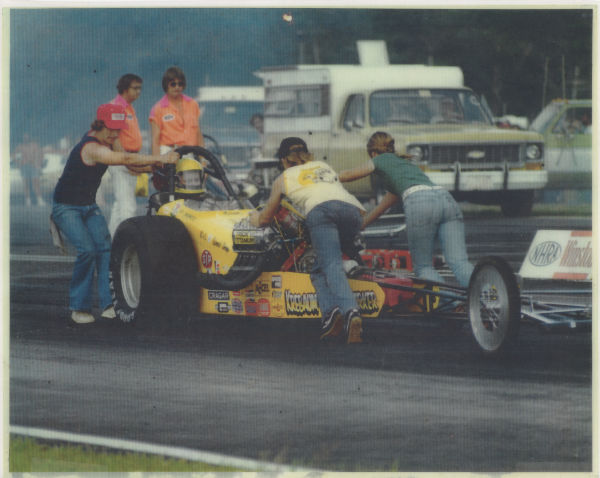 Success continued as they won the 1979 NHRA Springnationals in Columbus, Ohio. They also won another Division 3 Championship. Dan was voted Driver of the Year and Frank was a finalist for Mechanic of the Year. The team finished 9th in the Grace Cup standings for all NHRA Sportsman racers. Over the span of six years, the Parkers won the Cincinnati divisional meet five times. They continued to race in 1980 but at season's end decided to take a break. During their down-time, Frank was recruited by a full-time team.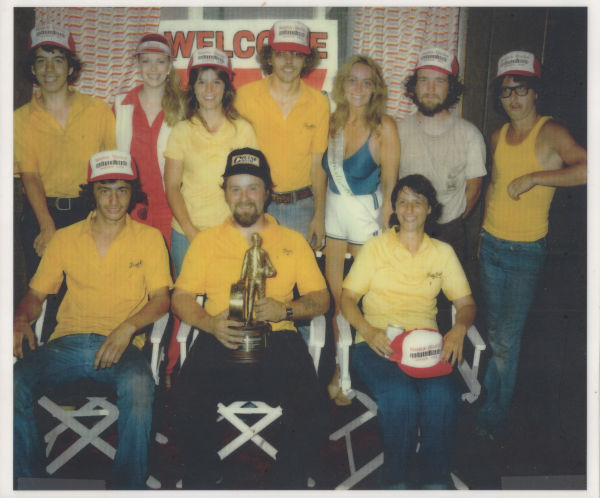 Frank moved to California to join the Captain Crazy Top Alcohol Funny Car team of Bill Dunlap and Gary Southern. Their team finished second in the national championship to NHRA's best-ever, Frank Manzo. Next, Frank moved back to Michigan to join Kalitta Racing to work on Scott Kalitta's A/Fuel Dragster and Connie Kalitta's Top Fuel dragster. After leaving Kalitta Racing, he began a full-time career as a Metal Model Maker and Fabricator at the General Motors Technical Center.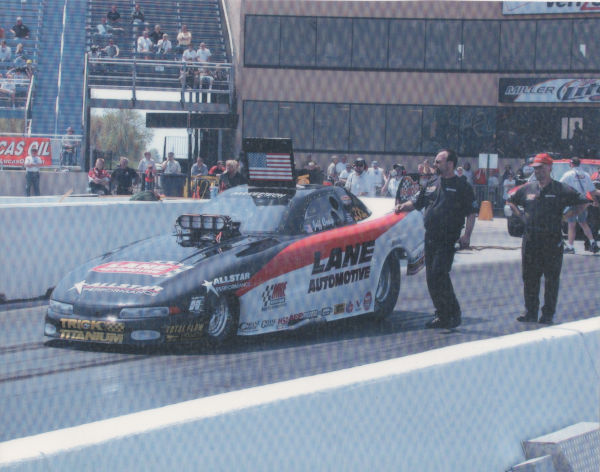 The Parkers kept their hands in racing. Frank worked with Terry Smith and Rob Cunningham on their Mancini Racing Super Gas Hemi Dodge Daytona and their Lane Automotive sponsored A/Econo Altered 1923 Dodge. Dan and Frank later worked with former National Champion Bob Gottschalk on his Top Alcohol Funny Car. In 1992, Frank formed ParkerTech Racing Services, providing specialized racing parts and consulting services. Dan, having retired to Phoenix, AZ, traveled to Michigan during the race seasons to assist Frank with his clients. During this time, Frank found time to crew for Charlie Henry's Showroom Stock Dodge Turbo Shelby in Sportscar Club of America's road racing series.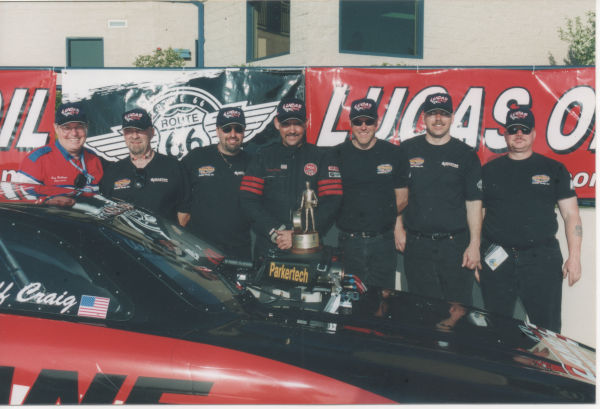 In 2001, Frank purchased a Dodge Avenger Top Alcohol Funny Car from California's Miner Brothers. Later that year, Frank, Dan and partner Duane "Dewey" Muelling entered their first event. Muncie Indiana's Jeff Craig was their driver. Dewey had essential experience in Top Alcohol, having won multiple NHRA Divisional championships with driver Al Dapozzo. The team also began a long partnership with Steve Sanchez of Total Flow Products in Troy, Michigan to develop better Top Alcohol cylinder heads.
The team ran more events in 2002 and finished third in divisional points. Lane Automotive of Watervliet, Michigan, became the team's primary sponsor, a relationship that continued until the team was sold in 2011.
In 2003, the team won the first divisional race, was runner-up at the NHRA Gatornationals and won drag racing's most prestigious event, the U.S. Nationals in Indianapolis. Soon after, Dewey's health forced him to leave the team. Frank and Dan continued with a new driver, 7-time Divisional Champion Danny Townsend. Still successful at the divisional level, the team suffered a devastating accident in late 2006, causing Danny to retire from driving.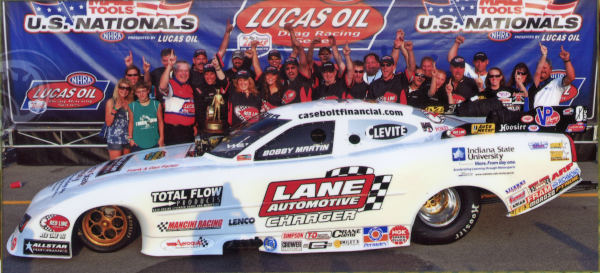 2007 brought more changes – a new car, new driver and new primary sponsor. Frank was voted North Central Division Mechanic of the Year in Top Alcohol. In 2008, Pennsylvania racer Bobby Martin was brought in to drive. It was a very successful relationship which included a division championship, a win at the NHRA Summit Racing Equipment Nationals in Norwalk, Ohio and an eighth-place finish in national points.
After a strong start winning the 2009 Indianapolis divisional and a rough mid-season, the team once again won the NHRA Mac Tools U.S. Nationals.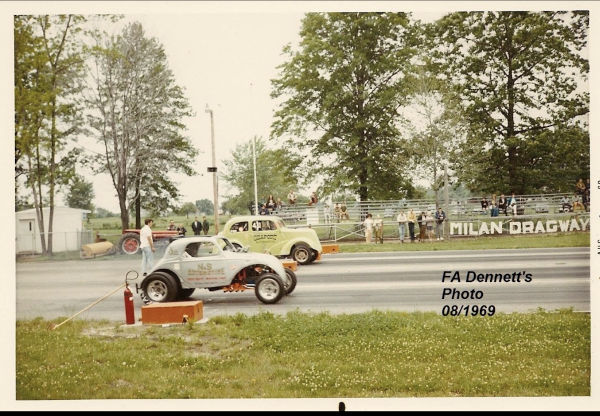 The team reorganized for 2010, bringing in Colorado driver Brent Henry and new sponsorship. This resulted in another division championship and continued a 10-year streak of qualifying at every event entered.
After the 2011 season, the race car was sold to the Harker Family in Australia. Frank and Dan have continued their involvement in racing. Frank is Car Chief for Wisconsin's Andy Bohl Racing, a Total Flow Products development racer, 2016 NHRA Regional Champion and 2016 Dodge NHRA Nationals winner.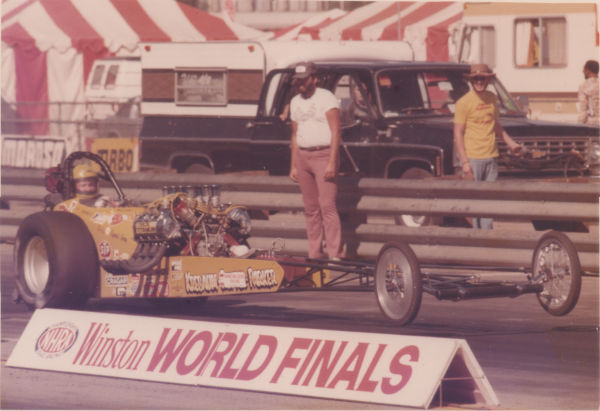 Dan has consulted with Kevin Cantrell, an Arizona Top Alcohol Dragster racer and continues to work with Frank on customer vehicles. In 2015 Dan and Rosemary moved to the Cleveland, Ohio area to be closer to both Frank, Cyndy, and all the Parker grandchildren and great grandchildren. Frank and Jennifer continue to live in Milford, Michigan where they raised four children.