Jimmy McCune
Originally from Toledo, Ohio, Jimmy McCune is the third generation of the famed McCune racing family, and to this point, he's arguably the most decorated racer of the bunch.
After growing up in quarter midget racing as a young gun, McCune made his first steps into the national motorsports scene in the early 1990s, dabbling in the USAC National Midget Series and the non-winged USAC National Sprint Car Series before adding more traveling dates to his calendar as the decade progressed.
By 1996, McCune was competing on a national scale, racing Champ Cars, midgets, and sprint cars across the United States, as well as making select starts for car owner Ken Moore in what is now the ARCA Menards Series between 1996 and 1997. Though McCune was never able to convert those opportunities into a springboard to the NASCAR ranks, he did earn a career-best effort of fourth in his second career ARCA start at the two-mile Michigan Int'l Speedway.
Following that brief stock car foray, McCune returned his focus to the open-wheel, short-track cars that his driving comfort and skills had originally developed in, and has since created a lasting footprint in the Midwest and in motorsports within the state of Michigan over nearly three decades.
Most notably, McCune has made his mark as the most successful driver in the history of the Michigan-based Must See Racing Engine Pro Sprint Car Series, one of the longest-tenured winged asphalt sprint car tours in the country. Competing with Must See Racing since the series' inception in 2010, McCune has racked up a record 43 feature wins and captured five consecutive points championships from 2015-'19.
McCune has garnered additional wins and success with the Auto Value Super Sprints in and around Michigan as well, tied for 10th all time in that series with 10 feature wins and a series title during the pandemic-shortened 2020 season.
Though he's raced predominately in winged and non-winged sprint cars since the turn of the millennium, McCune also made several ISMA supermodified appearances during the 2013 season as well, further reinforcing his diversity and prowess in pavement open wheel racing.
Most recently, McCune put together a five-win season with the Must See Racing national sprint cars, finishing third in the series standings. Now, however, he's begun to turn his focus to a new challenge – racing a sprint car on dirt – as well as preparing the next generation of McCune Racing.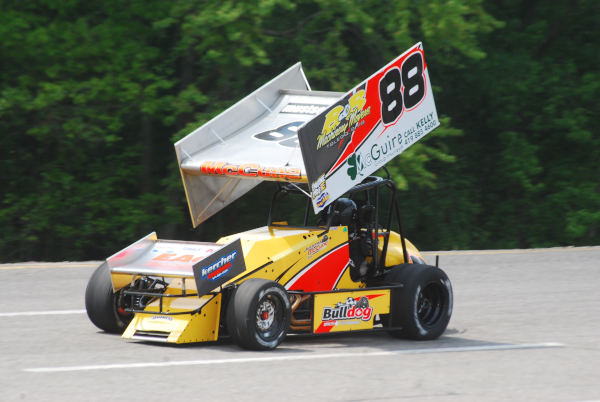 Jimmy's son, Jimmy IV (known as "Jimbo" colloquially), tested a pavement sprint car in August at Lorain Raceway Park in Ohio and hopes to begin competing in 305ci sprint car racing on dirt next season, under his father's watchful eye, while Jimmy has shifted his competition efforts to local dirt sprint car racing at Butler Motor Speedway in Quincy, Mich.
He's also spearheaded a new safety business – Bulldog Safety Performance – in the wake of a sprint car fire at Butler late in the 2022 season that left him with burns to his feet and legs and forced a lengthy offseason recovery before his remarkable comeback season this year.
"When you look back at all the racing, those are just numbers and trophies," Jimmy noted when asked what he wants his career legacy to be. "The safety aspect … something I can use to help racers like me and those hoping to do what I do, that's something that I really feel proud of in the bigger picture."