Dennis Castelle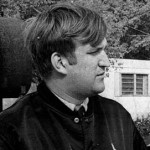 Dennis Castelle had one great love in his life: circle track racing. He made cars the central theme of his life. As a little guy, Dennis remembered his father driving the huge, loud timber hauling trucks on the west coast. He spent his teen years following the open cockpit sprint cars and midgets at country racetracks of Eldora, New Bremen and Winchester in northern Ohio & Indiana. While in college he would even drive out the winding gravel roads up into the hills of southern Ohio to Skyline Speedway, a nitty-gritty dirt track. He drank in everything about racing and racers. He even took in the Columbus Motor Speedway with dates, and Cincinnati races on his honeymoon.
His announcing career began in 1969, the "Thumb" of Michigan at Owendale Speedway, a dirt everyman's track. He spent summers announcing four to seven nights a week, especially on holiday weekends. He lived weekends at Dixie and Auto City Speedways in Flint, Auburn Speedway outside Bay City, even Tri-City Dragway (Saginaw). During the mid 70's his career moved downstate with stints at Owosso, Berlin (Grand Rapids), Crystal, Kalamazoo and Galesburg Speedways. Spartan Speedway and Michigan Ideal Speedway also employed the colorful Dennis to call their races. He was employed for years at many of the tracks.
Dennis was not only an announcer but also a public relations man, writing up results for the local and trade papers. He had earned his B.A. in Journalism from Ohio U. in Athens, Ohio. The Saginaw Nes first brought him to Michigan in 1968 where he developed an automotive column, "Casteele on Cars." Oldsmobile then moved him to Lansing, for their Public Relations Department. During Denny's tenure there he saw expansion of Oldsmobile's outreach to the racing world, particularly at major racing events such as Indy. All the while announcing circle tracks, he authored several automotive books. Most notable was his pictorial history, "The Cars of Oldsmobile." 1991.
Loving dirt tracks since childhood, Dennis worked his way up to announcing Indy Car super tracks such as Michigan International Speedway, Pocono Speedway, Talledega and other Penske tracks. He also "called" the Cleveland Grand Prix.
Denny was an encyclopedia in his knowledge of racing. He could easily talk to you about sprinters, midgets, Indy cars, Johnny Parsons Sr. or Jr., Sam Sessions, Cy Fairchild, the Sennekers, Fedewas, or any of the newest guys on the NASCAR Circuit.
August 1995, Michigan lost one of its truest race fans to diabetes at the age of 49. For twenty years, although not billed as such, Dennis Casteele really was, "The Voice of Michigan Circle Track Racing." Dennis had amassed a staggering number of hours behind the microphone. His total dedication to racing will not be forgotten in the circles that knew him best.
It is August; the parking lot grass is dry and crisp. Dennis pulls into the parking lot, opens the door and hears the roar of the cars practicing. I still see him hurry his step in excitement, never tiring of the "round 'd rounds." (1945 - 1995)