Jack Caswell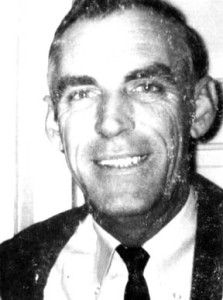 Jack started his racing career in 1948 racing the Jalopies at the small bullrings of Southwest Michigan such as Allegan Fair, Wolf Lake, Jones, Hastings, etc. And it wasn't long before Jack started winning features. Of course these early days of weekly stock car racing was rough and tough and it wasn't unusual for a driver to go through 3 or 4 race cars per season but Jack tells of this remarkable story. Money was tight during this time and early in the 1949 season Jack found himself without a car. So Jack took his family car and removed the lights, running boards, etc and raced the car on weekends and then he would put the car back together and drive it to work Monday morning. Remarkably Jack did this the rest of the 1949 season winning many races plus never missing a Monday workday. Jacks success in these early days paid off as for the next 35 years Jack would not have to worry about having a car to drive as he was offered and drove some of the best rides in the state from the top race car owners.
In the early 50's Jack drove the modified coups and race with Paul Beebe's Superior Automotive Racing Assoc. (SARA) at tracks like Galesburg, Grand Rapids Speedrome, Kalamazoo, Jackson, etc. Also during the early fifties a group of people got together to plan the building of Crystal Raceway. Jack helped this group get going and also did some of the construction work on the raceway. And later on in his career Jack would win three track championships at Crystal Raceway. By the mid 50's Jack had moved to the sprints and midgets along with still racing the Modified Coups. During this time Jack won every feature he finished at Crystal over a two-year period. Plus Jack was also winning features in sprint cars and midgets.
Also during this time and into the late 50's and early 60's Jack raced with Tom Cherry's All American Racing Circuit, USAC Sprints, and also IMCA Sprints that took him all over the country and into Canada. Plus he drove the powerful Super Modified here in Michigan, winning many races. During this time it wasn't unusual for Jack to run five or six times a week. During the 50's and 60's Jack also did a lot of barn storming with Norm Powers' midget organization. As the open wheel cars faded in the late 60's Jack turned to the Super Stocks (Late Models) where he became very successful. An example of this success can be summed up by a race at I-96 back in the 70's when Jack brought two cars to the raceway and won every race on the card. A feat that is not duplicated that often. Jack continued to race mainly dirt late models to the end of his career winning more often than not. The last race Jack was in was a feature event at Crystal in 1986 and yes Jack won it.
In his 37 year racing career Jack won approximately 220 features in the coups, roadsters, modifieds, sprints, midgets, super modifieds, late models, and sportsman at tracks like Allegan Fairgrounds, Auto City, Berlin, Big Rapids Fair, Butler, Cadillac Fairgrounds, Capital City, Pontiac, Clarkes, Crystal, Dixie, Flat Rock, Galesburg, Grand Rapids Speedrome, Greenville Raceway, Hart Fairgounds, Hartford, Harvard, Hastings, 1-96, lonia Fairgrounds, Jackson, Jones, Kalamazoo Raceway, Ludington Fairgrounds, Manchester, Manistee Fairgrounds, Marshall Fairgrounds, Merritt, Michigan State Fairgrounds, Motor City, Mt. Clemens, Mt. Pleasant, Northern Michigan, Nunica, Owendale, Owosso, Saginaw Fairgrounds, Saranac, Spartan, Standish, Thunderbird, Thunder Road, US 131, West Branch, Whiskey Ridge, Whittemore, Winston and many more out of state tracks. And the list of Hall of Fame drivers that Jack raced against and many times won races against is endless. In fact during the early days of the Hall of Fame Chet Mysliwiec was quoted as saying that he thought Jack Caswell should be one of the first drivers inducted. And I am sure that that there are many other drivers and promoters who would agree with him.
To sum up this short biography on Jack Caswell we will conclude that when the book of the history of Short Track Auto Racing in Michigan is written, the author need only to talk to Jack Caswell as no other driver in the state has competed in every aspect of the sport from the early years in the late 40s to the high tech racing of the 80's and every aspect of the sport in between and has done it so well as Jack Caswell.
Jack Caswell died in 1998.