Chevair Racing Team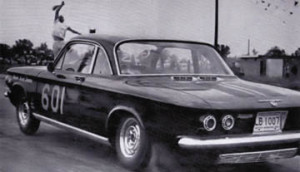 A Chicago native, Dick Griffin has had a varied career in motor sports that began in 1928. Dick was born September 25, 1915. He died in 2001 Involved in oval track and sports car racing, he is primarily known and respected for his contributions to, and accomplishments in the sport of drag racing. His lifelong method of earning a living even involved another form of motorsport. In the late 1930's he became a pilot. During World War II he was a test pilot and instructor. He even appeared in the movie "Flying Tigers", a popular movie during the war. He moved to Michigan in the 1940's with his wife Bess and started a flying service in Frankfort. He then moved to Lansing to be a corporate pilot, until his retirement in 1967. He became involved in drag racing during the 1950's and helped Stanton Dragway and Martin Dragway get started.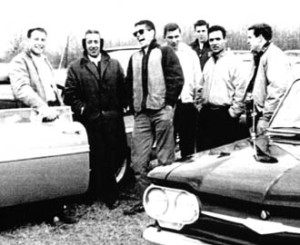 From 1960 to 1976, Dick managed the legendary "Chevair" Racing Team. Sponsored out of England-Cook Chevy in Lansing, the team primarily consisted of many makes and models of Chevrolets racing in several N.H.R.A. stock classes, including turbocharged Corvairs, several of which were raced by Dick. The Chevair Team consisted of many talented racers, and most went on to win many national championships and set many national class records. At the 1964 U.S. Nationals in Indianapolis, six Chevair Team cars out of eight entered won their class title, with Phil Chisholm defeating Jon Callendar for the overall Junior Stock final! The next year, Callendar won the Junior Stock title at Indianapolis! Two former Chevair members went on to become World Champions in N.H.R.A. drag racing, Bill Hanes and Doug Kahl.
The complete list of Chevair Team members is as follows:
Dave Bassett
Howdy Belknap
Bob Bishop
Jon Callendar *
Phil Chisholm
Dee Griffin
Dick Griffin *
Bill Hanes
Bob Jones *
Doug Kahl
Ron Kindel
Allan Moon
Art Pylar
Michael Reed
Tony Ritter
Chuck Roberts
Al Seger *
deceased * Of the original Chevair Team members Bill Hanes is still actively drag racing.