Louis Chevrolet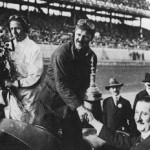 The Chevrolet Motor Company owes its name to Louis Chevrolet who was both a professional race driver and a mechanical genius. Born in Switzerland, his family moved to France and at the age of 21 Chevrolet immigrated first to Canada and then a year later in 1901 to the United States. After watching an auto race, Louis tried it himself and in his first race, he gained almost instant fame when he beat Barney Oldfield. Auto manufacturers were beginning to realize the benefits of participating in automobile racing and several factory teams were formed. William Durant already had Bob Burman and Louis Strong under contract and in 1909 was searching for another team driver and chose Louis. Within 10 weeks of joining the Buick team, Louis came up with a win at Crown Point, Indiana.
It soon became apparent to Durant that Chevrolet's skills were as a designer, engineer and builder of passenger cars. So when Durant and others formed a new auto company, Louis was comm­issioned to design a new car and the Chevrolet Motor co. was incorporated in 1911 with Louis Chevrolet president. It took only a short time before Chevrolet and Durant could not agree on policy and Louis resigned and left. Competing actively as a driver and engineer of racecars stirred Chevrolets appetite to build a new racecar of his own design. With Albert Champion and Joe Boyer they formed the Frontenac Motors Corp of Michigan in 1915. The Frontenac met with only mixed success at racetracks.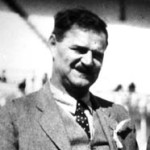 Louis Chevrolet after winning Sheepshead Bay[/caption] However, it all came together in 1920 when Gaston Chevrolet drove a Frontenac to victory in the Indianapolis 500. Except for a factory mistake on the steering arms, Frontenac's might have swept the first five positions in the race. The following year, Tommy Milton drove another Frontenac to an Indianapolis 500 victory. By 1923 both the Frontenac Motor Co. of Michigan and a similar company of Chevrolet's in conjunction with the Stutz Motor Co had gone bankrupt. Around this time Louis developed the Fronty­ Ford cylinder head and over 10,000 were built during the next five years. In addition, complete Fronty-Ford racecars were built and sold. Except for a stint in developing an airplane engine with Glenn L. Martin, which also failed, Louis Chevrolet lived out the remaining years of his life in Detroit and died on June 6, 1941 (12/25/1878 - 6/6/1941).