Dan Crawford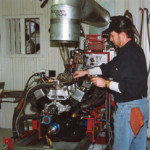 Dan Crawford has been a part of Michigan racing world since the late 1960's. His life long involvement began at Tri-City Dragway in Freeland. He attended his first stock car race at Dixie Motor Speedway in 1968. He instantly realized that oval track racing was for him. Starting out as a driver/mechanic building his own cars and engines in an era when cars were not cookie cutter out of the box. It was a time when a person needed to be skilled in welding, fabrication, and machining to race and succeed. He drove sportsman for two years and late models for one.
It turned out his engineering skills and his will to succeed were far better than his driving skills. As a crew chief and engine builder he was behind the scenes for many successful drivers locally as well as ASA and the NASCAR Busch Series. Starting, like most, at the bottom, he learned his trade and worked his way through the ranks. His main goal early on was to race in the premier short track racing series ASA. Achieving that goal plus much more was realized. With several opportunities-unities to continue to the next level, he stepped down from the crew chief roll in 1998. His last race as a higher level crew chief was at the end of the 1998 season with ASA veteran Bob Senneker. They won the Milwaukee Mile race for th second time. Forty years later Dan is still deeply involved and still racing. He and his businesses play an important role behind the scenes in Michigan Racing and the automotive world throughout the entire country.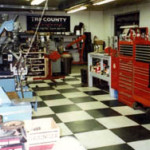 Racing achievements
He was elected Crew Chief of the year on asphalt in 1994 by Short Track Racing Magazine.
He was crew chief for Bob Senneker, Pat Bourdow, Dennis Berry and Tristan Dupius.
As crew Chief for Senneker, Dan and Bob finished third in points two years. They won several ASA races, and ran in a few southern bases All-Pro races.
Senneker won the ASA sanctioned 1994 GM Teamwork 300 at Michigan Int'l Speedway.
They won the Milwaukee ASA race twice.
They finished second at Pikes Peak Int'l Raceway in 1998.
He was the crew chief for Dale Fieshlien in the mid 1990's and they raced on a limited schedule. Jerry Nadeau tried to lure Crawford to be his crew chief, but by then Dan was disillusioned by the politics of high level racing, and decided to give up big time racing and devote more time to home, a new coating business and local racing.
Over the years he has been affiliated in one way or another with Bob Senneker, Tom Maier, Ed Howe, Mike Eddy, Dennis Berry, Pat Bourdow, Tristan Dupius, Eddie Hayden, Bobby Murani, Dan Bailey, Dale Woolworth, Jay Reinbold, Pete Weiss, Ray Daniels, Norm Davis, John Hubbard, Sam Faur, Charlie Wilcox, Bob Snellenberger plus many others.
As an engine builder one of his engines won the Super Comp division at Bristol, TN for the Courbier Brothers Racing Team. Over the years he also been involved with motorcycle road racing, Monster Truck racing, and AMA Flat Track motorcycles. He also designed and sold T-Shirts, jackets, and hats for some of the ASA drivers he was associated with.
Dan started Tri-County Engine and Machine in Saginaw in 1983. He then started Tri-County Tool & Die in 1986. He sold both businesses in the 1990's. His machine show was some of the first high tech machine shops north of Detroit.
Dan designed and built one of the first modern generation engine boring/milling machines in the country. The first one was sold to Bill and Ernie Elliott of NASCAR fame. As an engine builder in th 1980's and early 1990's his Tri-County Engines won numerous short track races and championships with many different drivers.
Dan currently owns Components Coatings and Multi-Blast / Unlimited Powercoating. He does custom coatings for several companies including Turn One Steering Systems, Howe Racing Enterprises, Katech, as well as prototype exhaust and engine components for GM, Ford, Chrysler, Delphi, and Toyota.