Jack Cummiford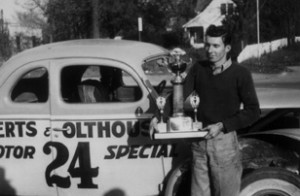 Jack Cummiford was born on January 26, 1927 in Grand Rapids, Michigan living with his parents on their farm. He remained in Grand Rapids most of his life until he moved to Gun Lake in Wayland, Michigan in 1989.
He began racing in 1949 at the Grand Rapids Speedrome with a 1938 Ford Coupe. Success was not far behind for in 1950 he won the Season High Point Championship by beating 1949 Indy 500 winner, Bill Holland, among others.
In 1951 Jack won the Season Championship and also the most feature wins with a total of eleven. He finished as the number one winner in the area in 1952. The next year was a great disappointment to Jack as he finished second in the overall points.
Continued determination led his to a victory in the "100 miler" at Jackson Motor Speedway on May 30, 1954. He also took first place at the Polio Benefit Race with an old model stock at the Speedrome.
In 1955 he ended up second place in the Michigan State Championship. He won the 1956 Season Championship race and the most feature wins (8).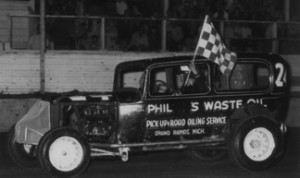 He used a variety of cars in his seven year career, beginning with the 1938 Ford, then moving through a series of cars including a 1937, 1939 and 1932 Ford Coupe, and later a 1932 two-door Sedan.
He ran at a variety of tracks in his career including The Grand Rapids Speedrome, Berlin Raceway, West Michigan Speedway in Nunica, the Ionia Fairgrounds, Owosso Speedway, the Big Rapids Fairgrounds, Flat Rock Speedway, Jackson Motor Speedway, Galesburg Speedway, Jones Speedway in Allegan, Kalamazoo Speedway, Fort Wayne Speedway, Bigelow Field in Grand Rapids, Whiskey Ridge in Muskegon, the Grand Rapids Stadium, and 16th Street Speedway, across from the Indianapolis Motor Speedway in Indiana.
He raced against such renown competitors as: Bob Knight, Gordy VanderLaan, Wally Sanders, Bill Wiltse, Glen Rockey, Bill Rider, Lee Petty (NASCAR star), Bob Brecken, Jimmy Renner, Tommy Lane, and Gene Farber.
Jack died at the age of 78 on December 13, 2005 (1927 - 2005)
One final note: When the small 1/5 mile track was eliminated at Berlin, Jack held the track record, which of course still stands today.