Tom D'Eath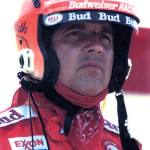 Tom D'Eath began his career in boat racing at the age of 14 in 1958. His first race was an outboard marathon around Belle Isle in his hometown of Detroit. He went on to be a successful limited inboard racer in the 1960's, winning three National Championships in the 150 cubic inch Hydroplane class. He raced off-shore racing boats during the late 1960's and early 1970's, setting records and winning races. He then began racing Unlimited Hydroplanes in 1973. He went on to win 16 Unlimited Hydroplane races between 1975 and 1990. His wins include the APBA Gold Cup three times (1976, 1989, 1990) and the Prince Edward Canadian Gold Cup three times (1974, 1976, 1980). He retired from competition in 1991. Power Boat Magazine dubbed Tom D'Eath as "Mr. Hydroplane."Tom was the winner of the 1975 Gar Wood Trophy and the 1976 American Power Boat Association (APBA) Gold Cup in Detroit with George Simon's "Miss U.S".
He was the winner of the 1982 Indiana Governor's Cup and Tri-Cities Columbia Cup with Bob Steil's "The Squire Shop".
Tom won twelve unlimited hydroplane races between 1988 and 1990 with Bernie Little's "Miss Budweiser". He won the Unlimited title in 1988. He won the 1989 and 1990 APBA Gold Cup races (at San Diego and Detroit) with the "Miss Budweiser". He raised the world lap speed record to 160 mph in 1990 at Evansville, Indiana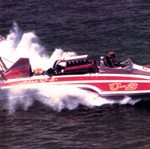 He is a seven time World Champion in Unlimited, Grand Prix and other inboard Hydroplane classes. He was the first driver to win a Gold Cup event in a cabover design Unlimited Hydroplane. The design is presently the only style hull in use today. He was also the first driver to win the APBA Gold Cup using a Turbo Allison engine, and also the last driver to win a Gold Cup using the Allison power plant.
He was inducted into the APBA Hall of Champions in 1988. He was inducted into the Unlimited Hydroplane Hall of Fame in 1997. The same year he was a TV commentator for the ESPN-2 broadcasts of Unlimited races.
Tom also took a shot at auto racing. He drove USAC Super Vees from 1977 through 1981 and raced USAC Midgets from 1982 through 1991. He also competed in the NASCAR Sportsmen Series.
Tom D'Eath is the son of the late Al D'Eath, who raced Unlimited Hydroplanes and midgets in the 1940's and 1950's.#
He heads ups the APBA's Vintage & Historical Division which was founded in 1994.