Ray Daniels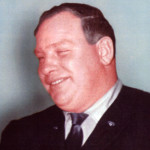 Ray Daniels drove his first racecar when he was 14 years old. It was in a cow pasture. Some of the boys that raced would gather there to try their racecars out before going to Dixie Speedway near Flint to race. His older brother owned the car he drove. The car rolled over that same day. Ray won his first race at age 15. It was a feature event at Whittemore Speedway and he was hooked.
He owned his first racecar when he was in the Army. He raced at a small track just outside of Fort Riley. He returned home with the racecar and ran at Dixie Speedway. He was one of the better drivers as he won many heat races, dashes, pursuits, feature events and championships. Over the years he ran at many Michigan tracks including Auto City Speedway, Whittemore Speedway, Auburn Speedway (now called Tri-City Motor Speedway), Standish Speedway, Merritt Speedway, Owosso Speedway, Capital City Speedway. Lansing Speedway (now called Spartan Speedway); Jackson Motor Speedway; Mt. Clemens Race Track; Flat Rock Speedway and several more, plus running out of state tracks like Ohio's Toledo Speedway and Sandusky Speedway.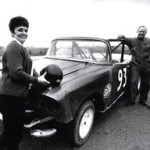 He might not have been the hot dog at all tracks, but still managed to make good showings on most occasions. He has over 100 feature wins to his credit and about ten track championships. The most memorable part of his career was when he won the track championship at Auto City Speedway, and then being chosen to drive a Buick racecar at Daytona Int'l Speedway in Florida for Auto City Speedway. This chance at Daytona got him a ride in a former Richard Petty car. Airlift Company then owned the car and he proceeded to win a qualifying race for the Permatex 300.
Ray drove racecars for about 30 years. He also was a car owner and a track technician. Ray died in the late 1990's.