Bob Davis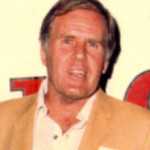 Bob Davis was born in Muskegon in 1920 and became deeply involved in motor sports shortly after his return from the service after World War II. For the next forty plus years he did it all from driving midgets, to flagging races, to being a top mechanic at Indianapolis, to fielding top cars on the NASCAR circuit.
Bob, always an innovator, also designed fuel and ignition systems for racing vehicles. Bob and his wife Jackie timed and flagged races in the late 1940's and early 1950's at such tracks as Berlin Raceway, the Grand Rapids Speedrome, Ionia Fairgrounds, Whiskey Ridge in Muskegon, West Michigan Speedway and Roanoke Speedway, both in Nunica, Michigan.
They moved to Florida in the early 1950's where he operated a parts and speed shop, all the while becoming more prominent in racing. He was the pit boss for Johnny Rutherford and was a major contributor in all of Rutherford's Indy 500 winning years. Bob went on to become a lifetime member of the "Indy Five-Hundred Club."
Bob and Jackie moved to North Carolina after the death of their son Buster, and became involved with NASCAR stock cars with Chrysler awarding his team one of the companies' first Dodge Charger racers. Some of the drivers who ran for the Davis' included Dick May, Tommy Gale, Bobby Mausgrover, Raymond Williams, Ed Negre, and Freddy Fryar (who finished 15th in the 1971 Daytona 500 in one of Davis' car).
Bob Davis died 1993 in Islamorada, Florida (1920 - 1993). Bob was a true auto racing pioneer, a racing legend. His widow Jackie lives in Florida.