John Doering Jr.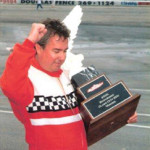 After 31 years of racing beginning in 1975, John Doering Jr. is now going into racing retirement. He has achieved 143 feature wins, personal awards, numerous track records, and not to mention won some of the most coveted races all over Michigan and Ohio.
Some of his best accomplishments include winning his first feature win in Mike Eddy's car beating Joy Fair in 1978 for the season championship at Dixie Motor Speedway. In 1979, John raced at Daytona International Speedway in the Grand American Modified 200 finishing 13th. In this race, he competed against some of the greats like Bobby Allison, Darrell Waltrip, Neil Bonnett, and Harry Grant. Also in 1979, John qualified for the World 100 in Eldora, Ohio where only a select few from Michigan have ever qualified for this race. John finished 12th.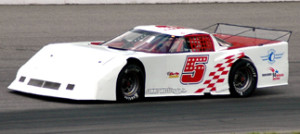 Between 1981 and 1983, he was the promoter of Standish Speedway and received Promoter of the Year Award. Also in 1983, he won the Spring Slinger 100 on the dirt track of Auto City Speedway. Then in 1986, John was also the winner of 18 feature wins out of 36 that he had entered, had 2 track championships and 2 track records at Auto City Speedway and Tri-City Speedway.
In 1997, John won the Main Event X in Columbus Motor Speedway in Ohio and the Colonel's Fire Cracker 150 at Auto City Speedway. In 2003 John had an impressive win at the Dixie Classic Main Event Series. Also in 2003 and 2005, he won the Mudslinger 100 at Auto City and in 2005 won the Smackdown 200 at Dixie Motor Speedway. Also that same year, he won one of his most memorable wins; the Glass City 200 at Toledo, Ohio.
John has had some of the best car owners and sponsors in the business.