Denny Donaldson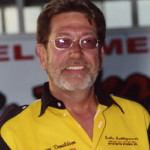 Denny Donaldson's career started in 1971 in the Modified Division at Butler Motor Speedway. In 1973, his team was one of only a few teams to have a Sprint Car in Michigan. Then in 1974, Denny also acquired a Late Model, and the team was now running four nights a week, and some nights with both cars. Donaldson pulled a rare feat as he topped the point standings in both the Sprint Car and Late Model divisions at Butler Motor Speedway in 1975.
They then concentrated their efforts on just the Sprint Cars and he competed with USAC (non-winged) and All Stars, as well as with the World of Outlaws. He ventured west in 1985 and ran in the prestigious CRA/USAC Sprint Car Challenge and finished second to Rickey Hood at Oklahoma City.
But shortly after that, because of his business obligations, Denny had to reschedule his racing career closer to home, which limited him to only running weekends at local tracks and at Sprints on Dirt (SOD) events.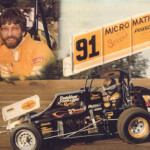 Before hanging up his helmet in 1992, Denny took six track championships, and won somewhere between 125 and 150 feature events in a driving career that lasted 21 years.
Denny is a second generation driver, son of Hall of Famer, Ralph Donaldson. One of his greatest thrills was to be able to compete against his father and being there when his father was inducted in the Michigan Motor Sports Hall of Fame.
Denny Donaldson remained active in the sport, but he is on the other side of the fence now. He became the the Competition Director at Butler Motor Speedway under Jim Halbeisen and helped out with the promotion duties.
Denny and his wife Kathy purchased Butler Motor Speedway from Halbeisen in 1996 and has renamed the track Butler Battlegrounds. They sold the track in 1999.
Racing has given Denny Donaldson an opportunity to make many friends and has given him enjoyment he could never replace. When he can give back to the sport it makes it all worth while.