Harry Earl Doolittle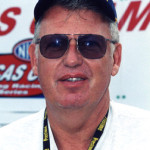 Harry Earl Doolittle was born in Hillsdale, MI in 1942, and currently resides there. His first forays into Drag racing were with a 1958 Plymouth Fury in 1963. Harry had 12 class wins at Detroit Dragway with this first effort. From 1964 to 1971, Harry raced a 1963 Ford Galaxie 352 with over 50 class wins at Detroit, a Jr. Stock Eliminator win, and a AHRA National Record. In 1972 and 1973, Harry competed with a 1964 Mercury Marauder, yielding a class runner-up title at the U.S. Nationals. In 1973, Harry switched strategies to mostly concentrate on racing smaller engine combinations in the lower alphabetical Stock classes, a move he has become legendary for.
In 1973 and 1974, Harry raced a 1968 Mustang 200 in-line 6 that netted two national records and six NHRA national class wins. 1974 saw Harry switch to the 1972 Mercury Comet 6 cylinder that he partnered with Hank Cable. They amassed 35 National records, 12 National class wins, an NHRA National Open Stock Winner title, an Onondaga Dragway Mid-Season Championship, and a NHRA Stock Eliminator Semi-Finals finish at Englishtown, NJ. He raced this car through 1977, and was never defeated in class competition. In 1978 through 1980, Harry raced a 1973 Plymouth Duster slant 6, netting 4 NHRA National Records, 6 National class titles, and a Stock Eliminator win at the IHRA Bluegrass Nationals.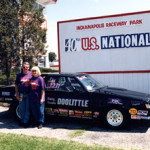 From 1981 to 1983, Harry returned to racing V-8's, when Jack McCormack approached him about racing a 360 Volare. With Jack's and fellow racer Don McElroy's assistance, Harry garnered 8 NHRA National records and 6 NHRA National class wins with this Plymouth. He was drawn back to the small engines in 1985, with an offer from Buick Motorsports to run a FWD Somerset Regal. This car was not the success Harry had hoped for, and competed with it only through 1986.
In 1987, Jack McCormack offered a new ride to Harry, a Buick Grand National, which he and wife Rosalie switched to a two barrel carb. V-6 combination that would be more competitive in it's class structure. Dubbed the "Baby Grand" by Rosalie, this car went on to be a proficient winner! 24 NHRA National Records, 12 IHRA National Records, 24 National Class titles, 2 NHRA National Open Stock Eliminator wins, 2 IHRA World Nationals Stock Eliminator wins, and an NHRA Stock semi-finals at Memphis, TN were registered by Harry with this car. This car was raced by Harry through 1994.
1996 saw Harry with yet another new race car, a 1997 Firebird convertible with Buick V-6 power. Racing and updating this car through 2002, Harry nailed down 10 more NHRA National class wins. His current car is 2002 Firebird coupe, again with a Buick V-6 engine. With this car, Harry set a National Record that has proved to be the quickest e.t. ever run by a normally aspirated V-6 Stock class drag car at 12.53 seconds. He has also amassed 12 more NHRA National class wins, and 2 NHRA Stock Eliminator Semi-finalist spots (Las Vegas & Joliet, IL.) with this Firebird. Harry Doolittle is regarded by most as "thinking man's" drag racer, a route he cannot escape with his engineering and industrial management educational background.
Harry is also grateful to many people who have helped him over the years: Russ Abrams of GM Hydramatic, Jack McCormack, Don McElroy, Henry "Hank" Cable, Terry Clark, Earl Doolittle, Bill Owen, Bill Nelson, Gary Russell, Bernard Santavy of Buick Motorsports, Larry Shepard of Mopar Performance, Don Terrill, Bill Vaughn, Ed Bennett, many others, and of course, wife and racing partner, Rosalie.
Harry continues to race and won the NHRA ArizonaNationals in the spring of 2013 at the age of 71.
Now retired from Ford Truck, the drag racing endeavors and successes are not enough for Harry, as he had also become a licensed locomotive engineer on the Adrian and Blissfield Rail Road in Michigan, running dinner trains. Currently, he is working as a Conductor/Engineer on the Indiana Northeastern Railroad in Hillsdale, and still continues to operate the dinner trains on the Adrian/Blissfield on weekends---when--- he is not gone racing.