Joe Dorer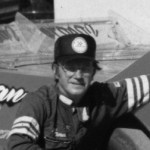 Joe Dorer became involved with racing, when he started helping a neighbor with his race car in 1963 when he was living in Jackson, Michigan. He moved to Coldwater in 1970.
He started driving stock cars in 1968 and won over 100 features in his career. He has won events in Michigan, Indiana, Ohio, Georgia, Alabama and Florida. His wins came on both dirt and asphalt tracks driving Super Late Models and dirt Modifieds. He won the first ever feature at Michigan Ideal Speedway in 1989. He won a track championship in 1974 driving a car that he built in his familiar #97.#
Joe once won seven straight features at Bryan Motor Speedway in Ohio. He also streaked five-in-a-row at Butler Motor Speedway and four-in-a-row at Galesburg Speedway. He went on to win two of three Willie Fedewa Memorial events at Spartan Speedway. A back injury from driving a semi-truck in 1990 forced him to retire from driving that year.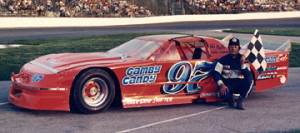 He then opened a race car repair and parts business. He built cars that won track championships in 1992, 1993, 1994, and 1995. In 1995 he helped three different drivers win championships. Bob Higgins at Galesburg in the Super Late Models, Terry Wilbur at Butler in Late Models, and Steve Kidney at Angola Motor Speedway (IN) in the Detroit Iron class.
Joe invented the Dorer Easy Shifter in 1986, and in 1990 he started building a toe-in gage. Dorer Easy Shifters and the toe-in gauges are sold all over the United States. He currently sponsors about 20 cars each year including building one car a year as a project car to help one driver that cannot afford to have a winning car.
Joe took on a new endeavor in late 1998 as he became the owner and promoter of Butler Motor Speedway. He sold his Easy Shifter business to concentrate on his new profession. He ran the track until 2003, when he retired from racing.