Duane "Butch" Dowker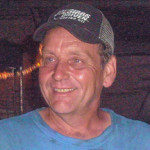 Duane "Butch" Dowker was born December 17, 1954 in Charlotte, Michigan and has lived there all his life. He continues to run and operate Dowker Engines along with brother Terry. The 60's set the stage for Butch Dowker and racing. While at the age of nine he began touring the racing circuit with father Max. The crew would start out on Friday with Delaware Canada, Saturday Oswego Speedway in New York, and Sunday Sandusky Speedway in Ohio. Butch spent much of his time watching from the stands in the early years due to the age limit to enter the pits.
In the 70's Butch began working as a crew member for many different teams and doing whatever he could just to be involved in racing. Butch and John Boy Hotchkiss owned and operated a Late Model at Butler Motor Speedway. He also worked with Butch Fedewa with a Late Model.
In 1975-1977 Sam Sessions ran with the TRI-Sac series in a Max owned pavement Roadster. Sam was a TRI-Sac champion. Marv Carman also ran the pavement roadster in 1977. In 1978-1979 Jerry Carmen ran the pavement roadster. Jerry also won a TRI-Sac title driving one of Dowker's cars.
Jet Engineering hired Butch to build an Indy car for Sammy Sessions. Unfortunately, shortly after this Sammy was killed in a snowmobile accident in December of 1977. Thus Steve Chassis ran the Indy Car. In 1983 Greg Leffler ran the Indy Car. Also that year Tom Bigelow ran the car. He also ran a Silver Crown car for Jet Engineering.
Butch Fedewa drove the super modified in the TRI-Sac series and dominated by winning all nine events. Then in 1980 they hooked up with Gary Fedewa in a Sprint Car. Fedewa ran for Butch thru 2004 when Gary retired. Their #42 was a familiar site of the race tracks. They went on to one of the most successful teams winning the SOD championship 1989, 1991, 1992, 1993, and 1994. They made the switch to entirely pavement and Gary won the Auto Value Super Sprint championship in 1999, 2000, and 2001.
He began fabricating and building the Dowker Chassis Sprint cars along with Butler Modified and the pavement Roadster for the Little 500 in 1982. The first time out for the new pavement Roadster was at the Little 500. Marv Carmen won the pole and then won race in the car's debut. Butch began building engine's and working in the family owned machine shop in 1987 to present.
Bill Tyler was added as a team mate to Gary Fedewa. He tied for the AVSS title in 2004. He also won the prestigious Sammy Sessions Memorial race at Winchester Speedway.
After Gary Fedewa retired his son Tommy ran the #42 Sprint Car. Tommy won the 2006 Auto Value title. Then Tommy decided to spend more time with his family Jason Blonde took over the driving honors of the #42. Jason went on to win the title thee straight years. 2007, 2008 and 2009.
Kevin Feeney ran the #42 starting in 2010.
Butch has crewed and been the mechanic for 11 different championship teams, not to mention the numerous champions' motor's built in the machine shop over the years. Butch has been voted crew of the year by fellow competitors numerous years in a row for always willing to help a fellow racer out with a problem that arises at the race track.
Butch is a natural when it comes to racing. While following in Max's foot steps he has devoted long hours at the machine shop and dedicated his life to racing.
Over the years Butch has had numerous partners including John Boy Hotchkiss (Late Model), Max Dowker (Pavement Roadster), Bob Soltow (Indy Car Jet Engineering), Frank Belair (Pavement Roadster), Tal Smith (Pavement Roadster), and Tony Nosal (Sprint Cars).
In 2007 Butch began building street Rods for a hobby.
He died June 2, 2015 after a courageous battle with cancer at the age of 60.