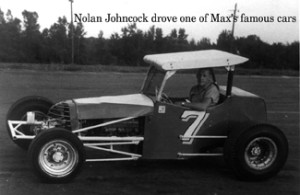 Max Dowker
Inducted into the Hall of Fame in 1984, Max Dowker was born in 1923 in Charlotte, Michigan, and has lived there all his life. Until 1979, he made his living operating a garage with a partner.
Max saw his first race in 1958 at Lansing's Capital City Speedway and liked what he saw/ A short time later, he was helping Lansing racer Johnny Logan work on his car. Later that year, Max and another mechanic, Tony Papoi, bought their own race car -- a chopped and narrowed '32 Ford, and the new car owners employed driver Jim Taylor. At that time, it would have been impossible for anyone to foresee Max's new found hobby becoming a life long challenge and labor love.
After racing the cut-down Ford a short time, Max decided to build his own car, by the end of the that year, he had employed Nellie Ward as the first of a long list of topnotch drivers. From the beginning, Max's racing activities were second to his garage business, which he operated during the day. He worked on race cars only after hours, and 70 or 80 hour work week was a normal schedule before going to the race track.
In the second year, Max had a driver who would be with him for a long time. Together, they formed on of the most successful teams in the golden era of open wheel racing in this part of the country. That driver was the legendary Nolan Johncock.
By 1962, Max had built team cars #7 and #72 and Johnny Logan joined Nollie.
Max died in 2004 (1923 - 2004)