Henry Dumonceaux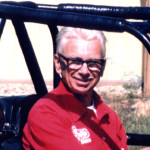 Henry Dumonceaux, better known as Hank Dumon in racing circles, started racing in 1952 in a Ford V8-60 midget. He drove a midget with the number 12 on the tail in his first race at the now defunct Grand Rapids Speedrome. He has been involved with midget racing ever since. The Kalamazoo native drove for 10 years and a won several features.
Hank retired from driving in 1963 but stayed active as a car owner and became president of the Midget Auto Racing Inc. (MARI) organization. He was the president of MARI from 1963 to 1969.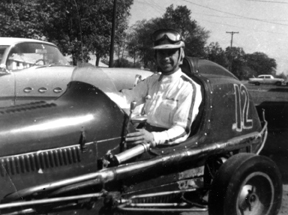 He had a number of drivers wheel his midget over the years. They included Johnny Johnson, Dick Alberts, Bill Hunter, Dave Dilbone, Sam Isenhower, Jack Calabrase, Danny Johnson, Bob Carnes, Gary Byers, Ronnie McClain, and Chuck Kryder. He towed his midget from his Kalamazoo shop to tracks as far away as London, Canada and St. Paul, Minnesota. He also made several trips to Florida.
Hank maintained his own race cars and did his own engine work. He was quite accustomed to working on Ford V8-60, six cylinder Studebaker Champion, Buick V8, Offenhauser, Sesco, Chevy six, and Pontiac four cylinder engines.
He retired in 1992 from midget racing and sold his car to his grandson Randy Daily.
Hank Dumon died in 2003.