Dick Dunshee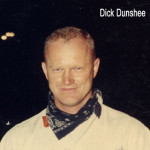 One of the early pioneers of full-bodied stock car racing in the state of Michigan, Dick Dunshee, displayed extreme versatility as being a proven winner on both asphalt and dirt surfaces across the Michiana region.
Born in 1933 in Petoskey, Michigan and a lifetime native of the Wolverine State, Dunshee as a youth raced slot cars using his favorite number 66 – a number that would adorn his race cars throughout his entire racing career.
His first endeavor on the ovals was a solo run at the little dirt covered Petoskey Motor Court Speedway in the late 1950's. Dick would eventually become a resident of Vicksburg, Michigan and find himself competing regularly behind the wheel of a six-cylinder powered 1948 Plymouth at Galesburg Speedway in the Strictly Stox division in 1961. Dunshee will tell you himself that his car owner Glenn Miniat was most responsible for him getting his start and for most of his early successes in the sport.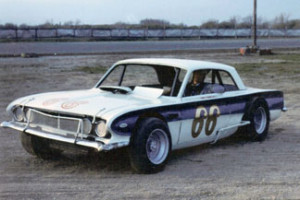 As his racing became more serious, a 1955 Buick 2-door hardtop was built for Dick to campaign on Western Michigan ovals such as Kalamazoo Speedway, the Speedrome in Grand Rapids, and on the dirt at Hartford and the Berlin Fairgrounds. It was during this period when Dick began racking up wins, running weekly against and challenging legendary names like Bob Senneker, Joy Fair, Ed Howe and many more of the area's finest.
In 1965, with the help of long time partner-mechanic George Pedrollini, Dunshee built a short wheel based 1962 Buick Special to compete in. It would prove to be one of his most popular creations. Campaigned over a two-year period, the potent little 432 cubic-inch racer won a number of outings on both dirt and asphalt surfaces including a 100-lap affair at the Speedrome and a track championship at Hartford. With that car in 1966, Dick led a good portion of the U.S. National Championship 250 at Jackson, Michigan, only to drop from the lead late with clutch problems. He also drove the Buick to a semi-feature win and sixth place finish after starting 40th in the annual Tony Bettenhausen Memorial Classic run in Northwest Indiana.
At this time Dunshee was advertised in the trades as the "Dirt King" for his prowess on the clay ovals, and was also recognized as the 1966 MARC Times Racing News "Personality of the Year".
Come 1967 a beautifully prepared 1966 Chevelle was built which Dick drove to a number of victories including the Hartford Mid-Season and Season Championship races. The year was topped off by beating some of the best in the business in taking the Michigan State Championship Race at the Berlin Speedway.
With the assistance of crew chief Harold Molenaar, his successes continued through 1968 and 1969 while driving a Chevelle Convertible and a hardtop of the same brand. Again a number of wins were added to his totals at his usual stops such as Kalamazoo, and Hartford and Butler on the dirt. In 1969 Dick took home top honors in the Hartford Memorial Day 50 and the Hartford Invitational. He would also place fifth in the inaugural U.S. Dirt Track Championship contested at the Tri-County Speedway near Cincinnati, Ohio.
1970 would prove to be one of Dick's best efforts, taking 16 feature wins at places like Hartford and Butler in Michigan and the Muncie Speedway in Indiana behind the wheel of a 1969 Chevelle. He would again capture the Hartford Invitational, their Mid-Season Championship Race, and also add the Tri-State Championship Race at Butler to his resume. He capped off the season by taking the 100-lap Butler Fall Championship Race and a third place finish in the Bettenhausen Memorial event in Indiana.
Though he would race on only a few more occasions in the 1970's, Dick pretty much retired from competition following the 1970 season, stating he was near forty years old and had pretty much tired of it.
Throughout his career Dick had competed successfully on a number of Midwestern tracks including: Galesburg, the Speedrome, Hartford, Berlin, Kalamazoo, Jackson, Kalamazoo Fairgrounds, Ionia, Mt. Clemens, Tri-City, and Spartan in Michigan; Fort Wayne, Muncie, New Paris, and Illiana in Indiana; andTri-County, Midvale, New Bremen, and Eldora in Ohio. He has set and held track records at Berlin, Hartford, Butler, Kalamazoo, Ft. Wayne and Jackson at one time or another.
Dick's race equipment was always immaculately prepared with beautifully detailed custom paint jobs forever adorned by his long-time sponsor Michigan Swim Pool Equipment. On many occasions he was presented "best looking car awards" at a number of the race venues he competed at.
Throughout his racing Dick made a living as an auto body shop manager and would ultimately establish Dunshee's Body Shop as a business from 1972 till 1985.
Down the road Dick's son Charlie would also become involved in the sport and eventually regarded as a highly successful late model racer in the Western Michigan region, winning his share of races, titles and championships.
Today is retired living the easy life in Mattawan, Michigan.