Cy Fairchild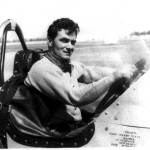 A lot of good race drivers were dying during the tumultuous '50's and '60's. It was a rough and tumble time for racers. The sprint cars were not yet spouting roll cages and personal driver safety equipment had not yet been built like it is today. A driver put his life in jeopardy by getting into a super modified or a sprint car at that time. The payoff was that if a driver was good enough to be a super star in the super modifieds, he could move up to the USAC sprint car division. And if he was a super star in USAC he then had an opportunity for an Indy car owner to put him in a Watson roadster that would get him into the field for the Indianapolis 500.
But no race driver starts behind the wheel of a snorting, snarling, open wheel monster known as a super modified or a sprint car. At that time drivers started out with '32 coupes running the short tracks around the state. Powered by flathead engines the racing was fun and a hobby for the racers. As time went on the coupes began to get chopped and channeled and the new overhead Chevy engine began to appear as the chosen power plant. It did not take long for the cars to become streamlined and take on the look of a pure built race car and they came to be known as super modifieds.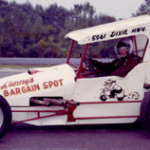 This was how the racing career of Cy Fairchild started out and it evolved right through the super modifieds and sprint cars. Cy's career began in 1952 when he and a buddy of his by the name of Kenny Berney left Gladwin, Michigan where Cy was born. They wanted to see the country and got as far as Oklahoma before they ran out of money. The guys went to work at a junkyard called 'Honest Abe' to earn enough money to get going again.
Cy noticed that there was an old '32 Chevy coupe stock car sitting in the junkyard just gathering dust. He told the owner that they ought to race the car. "He asked me if I had raced before and I said sure back in Michigan," Cy told me. They took the car out to the local race track and Fairchild looked real bad at first. They were pitted next to the local hot dog and the driver looked at Cy's coupe and said to him, "Kid, you've got the wrong tires on." He told Cy which tires to put on and they did and went out and ran second in the feature.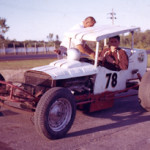 Fairchild eventually returned home. Clair Jackson had just bought Ken Cupurts stock car. Jackson stopped to talk to Fairchild and Cy asked him if he could drive his stock car. He said ok. They took it out to Dixie Speedway and won the feature. The next week Cy again won the feature. Now you would think that this would make a car owner happy, but not Clair Jackson. Jackson was the kind of car owner who feared that if his drivers raced his cars hard enough to win features, he was probably punishing the equipment and wearing it out. Jackson actually threatened to fire Fairchild unless he quit pushing the car so hard. The driver/car owner combo came to an abrupt end at that point.
The next week Cy was standing in the Dixie pits waiting for the drivers meeting to start. Larry McCloskey had two stock cars, #42 and #77. Everybody wanted to drive the #77 because Larry had not yet put a driver in it. Cy admits that he had been drooling over the prospect of getting a ride like that.
"Somebody behind me said, 'you want to drive for me?'" Cy explains. "I turned around and it was Larry McCloskey . I drove for Larry and won the Dixie Speedway championship and then went down to Ohio and won the Michigan-Ohio-Indiana championship.
Larry McCloskey eventually sold his stock cars and bought two midgets. Cy was driving one of the midgets for him. Then he went back to drive the #77 for a new car owner. They started a hot winning streak that netted the team twenty-seven feature wins in a row.
Fairchild's worst racing accident happened in Chicago at Soldiers Field in 1960 in a midget race when he climbed over a competitors wheel, went over the fence and landed in the grandstands. Fairchild's left leg was broken and half of his face was badly torn up.
Fairchild was very successful around the Michigan race tracks. One year he won seven MSPA features at tracks like Whittemore Speedway, Cadillac Speedway, Mt Pleasant Speedway, Dixie Speedway, the dirt track at Pontiac and a couple of other tracks he could not remember the names of.
"It was always easy to race and win." Said Cy. "I don't know why, but it was just easy. I learned one thing from Larry McCloskey, you can't run junk equipment and win races. You have to have a good piece of equipment. As I heard Gary Bettenhausen say, 'God couldn't win driving junk'".
In asking Cy about who was instrumental in helping him in his racing career, he talked mostly about the late Chuck McClung, from Flint. "The year after I won a ton of races in the #77, McClung made me get out of that car and he took twelve cars that had never run up front and made me drive them. I won all twelve features with those cars that had never run in the top ten." Says Fairchild. "Chuck McClung was a promoter and a half. He was one of the nicest guys I ever met."
The late Chet Mysliwiec was another promoter that Cy fondly remembers. Cy went on to describe Chet this way. "Chet Mysliwiec was a genuine guy. He said what he meant. If he said something, you could believe it. I would stay in his home in Florida when I was racing in Florida during the Winter. He stood tall and he would tell you the way it is."
Fairchild also has good things to say about Mike Kerns, who bought and rebuilt Dixie Speedway. Mike bought the facilities and rebuilt the track, the grandstands and built VIP booths.
From 1980 to 1983 Cy promoted Tri-City Speedway. He tells it this way. "When I took over Tri-City Speedway, I called Earl Baltes, the promoter of Eldora Speedway and asked him what I should do. The first thing he told me to do was to go get my head examined."
Fairchild loved the supermodifieds saying that they were the greatest racing in the world. He said, "You run what you brung. If you didn't have enough to win, you'd go home and figure out where to get more." Cy raced against some of the greatest drivers of that era, Todd Gibson, Bentley Warren, Sammy Sessions, Gordy Johncock, Nolan Johncock, Wayne Landon, Harry Jones, Jack Conley, Dick Good, Johnny White. During the off season in the Midwest, he traveled to California to race and also did some PR work for the late J.C. Agajanian.
Cy Fairchild's most memorable race was winning the Little 500 at Anderson Speedway in 1967. This is where the fastest 33 sprint cars start three abreast and race for 500 laps on a quarter mile paved track. Cy started the race in the Stahl sprinter and when the engine blew, he pulled out of the race. As he was climbing out of the car, another car owner grabbed him and asked him to get into his car which had just pulled off the track. Cy did and won the race that day. The Little 500 is a very prestigious race for a sprint car driver to win. Another race Cy remembers was at the Grand Rapids Speedrome where Harold Smith was leading until they came out of the fourth turn on the last lap and Cy passed Smith for the win. I remember Cy winning a big season championship race at Berlin Raceway where the fog was coming in and it was difficult to see the race cars on the backstretch.
By the late '60's supermodified racing was dying out. Cy was still making more money in the supermodifieds than he thought he could make in the USAC sprint cars. The problem was that he did not understand the contingency program that existed in USAC. If you ran good, you would get checks from Valvoline, Goodyear, etc. for using their products. After making the switch, Cy found out that he could make more money in USAC.
Fairchild got a ride in the Shahl sprinter and began running USAC. 1968 found him finishing in 11th position in season points. In '69 he wound up 6th in points. It was the old case of a driver never being better than his equipment. Cy tried getting a ride in several other good sprint rides but always got danced around by the car owners.One of the highlights was when they ran a weekend at Salem and Winchester which are both high banked half miles. Whoever had the best combined points in the two features would be the overall winner. At the Winchester 100 lapper, Cy was leading the feature when he blew a right rear tire. He pulled in and got a quick tire change and still finished 7th. Going to Salem the next day all Cy had to do was finish 3rd in the feature and he would be the big weekend winner. Unfortunately Greg Weld hit the wall, flipped and landed on the engine of Cy's car. A.J. Foyt offered to let Cy take his backup car and finish the feature but USAC disallowed it saying that once Cy started the feature in the #36 he could not switch to another car.
The good news is that Cy Fairchild won two USAC sprint car features. You may not think that that is a lot but remember that tons of good racers have moved up to USAC and never won a feature. So with two feature wins, Cy has some good bragging rights.
The next step up the ladder would be to run the Indianapolis 500 but that never worked out for Fairchild. He talks about it this way. "I waited several years too late to go to USAC. Gordy Johncock had a four year jump on me and Sammy Sessions had a two year head start on me." At that time Indy car racing was switching over to the rear engine cars. Johncock and Sessions were able to move up while the front engine roadsters were still running. The Indy car rides were no longer being offered to sprint car drivers."
Fairchild was honored by being elected and inducted into the Michigan Motor Sports Hall of Fame and now stands in good company with those other racers who have excelled in motor racing.
Eventually Cy Fairchild retired from auto racing and nowadays is content with working his farm and fifty head of cattle.