Wilson Fedewa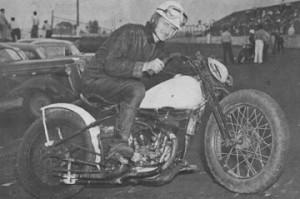 The career of Willie Fedewa spanned 20 years, and was filled with many highlights. Although records were seldom kept in the '40's & '50's, it is estimated that Fedewa captured in excess of 400 feature wins driving motorcycles, midgets, modifieds, and stock cars. Willie's motorcycle racing career began in 1946, and ended in 1948.
Two years on the bikes was enough, and in 1948 stock car racing became a way of life for Willie and his chief mechanic and wife Hilda.
The list of tracks Fedewa raced on in those days is impressive; Owosso, Allegon, Jackson, Lansing, Capital City, Motor City, Galesburg, Hartford, Hastings, Kalamazoo, Adrian, Saginaw, Ionia, Grand Rapids Speedrome, Berlin, Illiana, Whiskey Ridge, Flat Rock, Alexandria, South Bend. Fedewa indicated that he probably had raced on other as well, but can't remember them all.
His greatest success came at three speedways, Allegan, Owosso, and Capitol City. In a 10-year span Fedewa only lost two races at Allegan, a dirt track where he learned the technique of broadsliding. Fedewa's success was unusual at Allegan, a dusty track lined by trees. The trees were the key success for Fedewa because he learned to use the treetops as a guide to negotiate the track when it became dusty. Capitol City Speedway was another track that Willie owned. He captured so many features at the track that his fellow competitors hated to see him pull into the track. Another race for 2nd was the popular expression. His favorite track however was Owosso. In the 40's and 50's the track was one of the premier dirt tracks in the mid west, attracting the best talent in the land, and Fedewa was one of the tracks early stars. Willie captured a number of feature wins at the track in stocks and modifieds.
The track championships Willie won were few, winning Allegan, Capitol City, and Owosso. The reason he won so few championships is easy to explain. Fedewa could be considered one of the early travelers. Running where the money and competition were rather than staying with one track.
Fedewa was also an innovator in racing. He won a race at the Jackson fairgrounds one time against stiff competition by using a special device. The stock cars of the days had a tendency to use a lot of oil, and pit stops were unheard of, and Fedewa, realizing the long race may take some oil, rigged a device in the car, with an oil can that lets him fill the engine with oil from the cockpit of the car while driving.
Willie was also one of the first drivers to use slicks for tires. Fedewa developed a system where he built extra wide wheels by putting two conventional wheels side by side by welding them together. So successful were the wheels, that he began building them for competitors. Willie Fedewa ended his career in the early sixties when his two sons, Gary and Butch decided to take up racing. Fedewa stepped out of the cockpit, and helped his sons become two of the most successful race drivers in Michigan history. Gary and Butch have since retired. Between the three, they have put together almost 800 feature wins.
Willie was a barnstormer in his racing days. Mr. Outsider run the cushion, that's the place to be, winning races for 40 percent of the gate, some days that was 26 cents, but always coming back. Tour the countryman, run against the best, no other way to learn. Be versatile, run them two wheelers, open wheelers, and taxicabs, do it all. And do it all he did, winning more checkered flags than most starters throw in a lifetime. Loved by his family, loved by his fans, respected by his competitors. Willie Fedewa indeed, did it all.