Bob Finley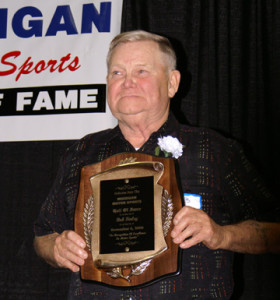 Bob was born in 1937 in McKenzie, TN. He moved to Lansing, MI in 1956. His interest in auto racing was initially sparked when Diane, his wife of over fifty years, said "let's go to watch the races at Capital City Speedway". After one trip, Bob developed the passion for racing. He then met Willy and Gary Fedewa, and helped them build their racecars through the 1960's and 70's. In 1967 Bob started his Northside Service, a major towing service based out of Lansing, which has now grown to over 40 employees and three locations. Bob is always ready to help another racer get started or assist them in running better, as Bob's twist on that is that he welcomes the competition. Over the seasons, Bob has had some the best drivers in the state driving his Super Late Models: Gary, Tim, and Tom Fedewa, Tim Felver, Charlie Ryan, Tim Ryan, and Gary Sherman. Dale Earnhardt, Sr. drove for Bob in 1987 at Kalamazoo's NASCAR Night, as did Rusty Wallace during Galesburg's NASCAR Night in 1989. His sons Jeff and and Doug Finley have driven for their Dad, and Jeff's son Chad at thirteen has turned some laps, and will be eventually be competing in Bob's Super Late Model.
As crew chief for for Gary Fedewa in the 60's and 70's, Bob and Gary competed at over 50 different paved and dirt tracks throughout the Midwest and Canada, winning over 150 feature events. This includes five MSPA championships, and track championships at Owosso, Spartan, and Crystal. As crew chief and owner for his son Jeff, they won seven national karting events from 1973 to 1982. In Jeff moving up to late model, they won the Harvest 100 at Spartan in '86 and '87, along with six track championships in '86, '90, '93, '95, and 2001, collecting over 100 feature wins. In one year, 1990, Jeff and Bob won the track championship at Owosso, Spartan, and Michigan Ideal.

As car owner and crew chief for son Doug, together they won the Harvest 100 at Spartan in 1988 and 2000. In 1988, they won the Willy Fedewa 100 at Spartan, as well as Michigan Cup victories at Springport in '97 and '99. A total of six track championships were attained by Doug and Bob in '91, '92, '98, '99, 2000 and 2002, collecting nearly 100 feature wins.

In 1995, Bob was awarded the Golden Circle Award at Spartan Speedway. Bob has been a factor in twenty three championships with over three hundred and fifty feature wins, and he refuses to stop there as he and his teams have three Super Late Models ready to roll as this writing embarks upon the 2006 season.