Doug Finley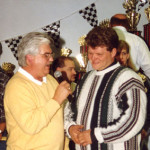 When one thinks of short track racing in the Lansing, Michigan area, one name immediately comes to mind; Finley! From legendary Car Owner, Bob Finley to his two sons, 2010 Michigan Motor Sports Hall of Fame inductee, Jeff Finley and his older brother, Doug Finley. Doug was born on New Years Day, January 1, 1961 in Lansing, Michigan to Bob and Diane Finley. He currently resides in Lansing, Michigan and has two children; Corey and Ashleigh.
Finley spends his days working for the family business, Northside Service, and his nights working on his passion, his race cars. His racing career was sparked by his Father, legendary Car Owner, Bob Finley who has been around racing since the early sixties beginning with Michigan Motor Sports Hall of Fame drivers, Willie and Gary Fedewa as well as his younger brother, Jeff, and more recently with Doug.
The 50-year-old fan favorite has been working on race cars since he was very young and has learned a lot over the years, which have been a learning experience for the entire family and the crew that has stuck by him through the years. Finley owes a lot of love and support to his family and Jim Martske who has been with him for the entire ride. Doug puts his heart and soul into his racing career and is always willing to help out another driver, a trait learned from his father.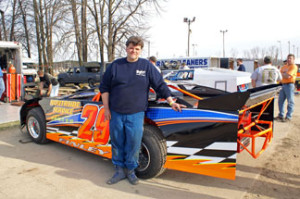 The knowledge and experience he has gained over the years is priceless. Not every race is a winning race it's just knowing that you put your best foot forward. Doug has had the support of some very dedicated crew members Martske, Jeff Smith, Tom Klopp, and last but certainly not least, his Father, Bob Finley.
He started racing in 1983 and began his career on top of the rung in a Super Late Model on the dirt before moving to the pavement beginning with the 1988 season. Over his 25-year career, Finley has won nine (9) Track Championships with eight (8) of those coming at his home track of Spartan Speedway in Mason, Michigan. His eight Track Championships at Spartan came in 1991, 1992, 1998, 1999, 2000, 2002, 2006, and 2007. Also in 2000, Finley scored the Super Late Model Championship at Owosso Speedway.
In addition to his nine overall track titles, he has over 100 asphalt feature wins and 12 dirt feature triumphs. Amongst his victories include; Two (2) Harvest 100 wins at Spartan in 1988 and 2000, and two (2) Michigan Cup wins at Michigan Ideal Speedway in 1997 and 1999. He was also the first ever winner of the Will Terry Memorial at Owosso in 1990. He also won the Willie Fedewa Memorial at Spartan in 1988, the Mason-Dixon Showdown in 2006, which was held indoors at the DeVos Place in Grand Rapids, Michigan, the Firecracker 100 at Auto City Speedway 2007 and the Godfather Stan Perry Memorial at Spartan in 2008 and the Charlie Ryan Jr., Memorial also at Spartan, in 2008 and again in 2010.
Some other noteworthy accomplishments include; a second place finish in the Main Event Series Race in 1997 and a third place showing in the Colonel's 150 in 1997, both at Auto City. He also finished third in the prestigious Glass City 200 in 2000 at Toledo Speedway in Toledo, Ohio. He's also a former Co-Champion of the Triple Crown Series at Owosso and has received several Hard Charger Awards over the years.
In 2009, Finley purchased a Mastersbilt Chassis and went back to where his career began, on the dirt! Finley will made select appearances throughout the season at neighboring dirt tracks, Crystal Motor Speedway, I-96 Speedway, Merritt Speedway, Mid-Michigan Raceway Park, and Mt. Pleasant Speedway. He also returned to his home track of Spartan back on the pavement and despite limited appearances, still finished ninth in the point's standings.
In 2010, the role of Car Owner took precedence over his driving duties as he hired Perry, Michigan stand out, Sammy Epling to steer his Dirt Late Model and he was rewarded as Epling would steer the #29 Northside Service / SJE Trucking UMP Late Model to the 2010 Track Championship at Mt. Pleasant Speedway in Mt. Pleasant, Michigan. Epling also finish sixth in the points chase at near-by I-96 Speedway in Lake Odessa, Michigan. Despite missing three nights due to traveling with the Sunoco American Late Model Series, Epling scored three feature wins out of just six starts at I-96.
Finley did climb behind the wheel of his pavement Super Late Model on three separate occasions in 2010 and proved he hadn't lost his touch; He scored the win in the prestigious Charlie Ryan Jr., Memorial at his home track of Spartan Speedway on July 11th, 2010 for his second career victory in that event. He also grabbed a third place finish in the Stan Perry "Godfather" 75 and a fourth place finish in the Summer 75.
With the 2011 racing season on the horizon, Finley plans to focus on his Car Owner duties on the dirt for Epling and will chase after the 2011 Championship in the Sunoco American Late Model Series as well as make appearances at the famed Eldora Speedway in Rossburg, Ohio while staying closer to home and appear in select shows throughout the Midwest including several appearances back at I-96 and Mt. Pleasant. In addition, look for Finley to make select appearance back behind the wheel of his pavement Super Late Model for special events only back at Spartan.