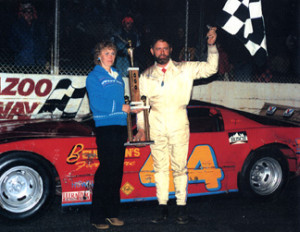 Jim Aldrich
Jim Aldrich, from Ovid, was one of Michigan's most active drivers during the years 1966 to 1992 as he managed nine track titles along with an excess of 100 feature wins. Jim's career ventured as far north as Raceland in Oscoda, Michigan, to as far south as New Smyrna Speedway, in Florida. He ran at 31 different tracks nation wide.
He was the track champion four times at Owosso Speedway in 1974, 1975, 1978 and 1982. He was the Spartan Speedway champion a total of five times. They were in 1973, 1977, 1982, 1983 and 1985. he was also the 1968 champion of the combined Spartan and Jackson Motor Speedway title.
Some of his career highlights included the 1966 Rookie of the Year. Winning his first feature event in 1967. He was voted the 1979 MSPA Sportsman of the Year, and his two wins during the 1985 "Dealers Choice".
He won three consecutive features at three different tracks within a 24 hour period on May 11 and May 12, 1968. his wins came at Spartan Speedway, Jackson Motor Speedway and Kalamazoo Motor Speedway.
He finished second in the points three consecutive years in the Michigan Speedway Promoters Association (MSPA) in 1974, 1975 and 1976. In 1974 he had the series high of four wins in a season, and he was the first driver to win two consecutive features.
Over the years he has won features at 16 different tracks including Berlin, Clarke's, Crystal, Dixie, Galesburg, Ionia Fairgrounds, Jackson, Kalamazoo, Merritt, Owosso, Raceland, Spartan, Tri-City and Whittemore (all in Michigan), as well as features at Checkered Flag in Windsor, Ontario and Steuben County in Indiana.
Jim died at the age of 67 on August 31, 2015