Carson Zeiter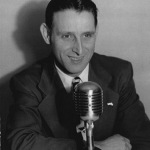 "Carson Zeiter- The Voice of the Speedway" started in the racing business taking tickets at his brother's promoted race at Norwalk, Ohio in 1923 at the age of 12. From that point on, Carson would work at races every summer in every capacity from selling tickets, working the pit gates, to hanging flyers on poles. Carson would tell how he would have to stand on running boards to see into the cars entering the pits to check for pit passes. After graduation from High School until the early 30's Carson and his brother barnstormed races throughout the state from the Upper Peninsula to the Ohio and Indiana borders at many tracks that have long since disappeared.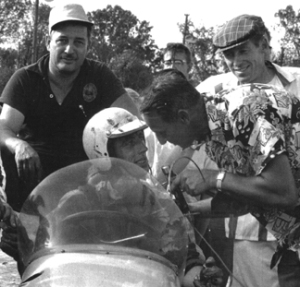 In June of 1932 Carson and his brother Don opened Zeiter Motor Speedway on 8 Mile and Schoeneer Rd., just outside Detroit, a track he designed (incidentally-Carson sold his car so that the nails to build the stands could be purchased). The Detroit Free Press referred to this track during its construction as the "DREAM SPEEDWAY" and to be known later as the Motor City Speedway. In June of 1933 at VFW Motor Speedway (Motor City Speedway) Carson announced his first auto race. In a few years, he was in demand all over the country announcing all types of races, including motorcycles and a few Gold Cup boat races on the Detroit River. Besides Motor City Speedway, Carson designed the following tracks in the state:
Flint Midget Speedway (Playland Park Speedway)
Old Kalamazoo Fairground Midget Speedway
Track at Bigelow Field Grand Rapids
Sandlotters Park Speedway- Detroit (near Belle Isle Bridge)
Carson was on the initial seven-member committee in 1936 to draw up the first specifications for midgets. The specifications were drawn up for safety and uniformity. These 'specs" were soon accepted nationally. Starting in 1946 and for many years, Carson hosted the Mid-West racing conventions in Detroit. It was a big party in which race cars, equipment etc. were on display. It was always a good time with dancing and liquid refreshments. The highlight of the evening was the presentation of the outstanding racing personality in the United States. Winners of this award were:
Walter Bull Publisher and Editor of the Illustrated Speedway News
"Aggie" Agajanian Promoter and Race Car Owner
Johnny Parsons, Sr. 1950 Indy 500 Winner
In the sixties and seventies Carson trimmed down from his seven (7) to eight (8) race dates per week schedule to announcing only special events and to eventually his new role of "fan". At the close of every racing program, Carson coined a phrase which in one version or another is now used by most racing announcers around the nation. It was "Remember folks the place for speed is on the speedway, not on the highway, so take it easy on the way home".