Edward Zalucki Sr.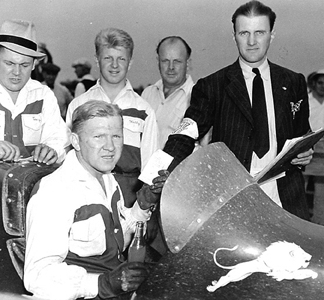 Edward Zalucki came into existence on September 19th, 1914 in Hamtramck, Michigan. As a youngster, Ed would tag along with the racers to the Veterans of Foreign War Speedway, (later to be called Motor City Speedway). Some of the drivers he watched were Howard Dauphin, Gail Langer and Elbert Booker. During the week, he'd hang around the racing garages watching and listening.
By the middle 1930's Ed was helping a friend by doing the mechanical work on his race car. They took the car up to Yale, Michigan for a race. When they got to the track, his friend decided he didn't want to drive the track and Ed jumped at the chance to finally scratch the itch he'd always had to drive a race car. Just like out of a movie script, Zalucki won his first race that day on that 1/4 dirt track. The year was 1936.
Before long, Ed got a ride in a Riley big car in which he quickly earned his reputation as a rough and tough driver on the dirt bull rings of the mid-west. Zalucki ran a team car with the well-known Frank Luptow in '39 & '40. During that time period, Ed won the following big car championships: Michigan State Championship, International Championship of Canada, Ohio State Championship, and the New York State Championship. The late Hank Heald, writing in the January 8, 1942 edition of the National Auto Racing News said, "It was a cold windy night at Abars Inn in Windsor, Canada when Mel Moore presented Eddie with a beautiful trophy emblematic of the International Championship of Independent Big Car Racing. Eddie was just about as happy as anyone could be."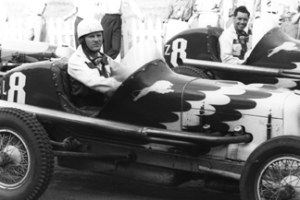 Zalucki in 1940 was driving Floyd Dreyer's #2 factory big car. He really tore up the dirt tracks now and on July 4, 1940 got a real thrill out of beating Johnny DeCamp for second and almost caught the legendary Jimmy Wilburn for the lead at Uniontown, Pennsylvania.
Ed remembered driving the Dreyer car at Winchester. "Jimmy Wilburn was leading, I was second and we were lapping the field. Wilburn went to the outside to pass the lapped cars; I dove to the bottom of the track and got by everybody including Wilburn. At that time we didn't have pressurized fuel tanks, we'd have to pump pressure into them by hand. After I got the lead, the pressure was down and before I could pump the pressure up, Wilburn got back by me for the lead. I finished 2nd to the great Jimmy Wilburn."
Some of Eddie's greatest triumphs came in 1941 at the wheel of Dick Van Emerick's beautiful McDowell Offenhauser when he made historic strides on the IMCA Western Fair Circuit. At the fairgrounds tracks in places like Cedar Rapids, Iowa and Mitchell, South Dakota he raced against drivers like IMCA's great champion, Emory Collins.
After WWII we find Eddie expanding his racing activities. He joined AAA and ran championship cars at Langhorne, Springfield, Detroit Fairgrounds and Milwaukee. Some of the legends he raced against were Ted Horn, Rex Nays, Spider Webb, Johnny Shakleford, Troy Ruttman, and Johnny Parsons, Sr.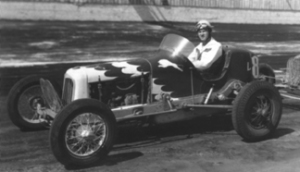 Race car building also appealed to Ed and he built two Indianapolis 500 cars in 1948. The owners were Lou Rassey and Norm Olson with Jackie Holmes and Duane Carter doing the driving. Eddie passed his rookie test in 1947 but when Duane Carter's engine went bad, the owner pulled the engine from Eddie's car which left him unable to qualify.
Ed Zalucki has a ton of accomplishments to his credit during his 69 years. Driving in sanctioning groups such as CSRA, AAA, IMCA and coming up a winner says it all. Ed had also raced at Michigan tracks such as Ionia, Mt Clemens, Milford, and won the last five big car features at the old Jackson dirt track.
He died in 2002 at the age of 88 (1914 - 2002).