Jeff Finley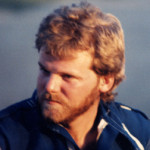 DeWitt, Michigan veteran, Jeff Finley is one of the most successful drivers to ever race Outlaw Bodied Super Late Models in the state of Michigan during the 1980s and 1990s driving for his Father, legendary Car Owner, Bob Finley, who also fielded cars for Jeff's older brother, Doug Finley.
Jeff Finley was born on August 16, 1963 in Lansing, Michigan. His racing career began in 1973 at just 10 years old racing Go-Karts. The Finley family acquired the Go-Kart after the previous owner traded it in to take care of a towing bill for the Finley family business; Northside Service. Finley raced that Go-Kart and picked up Three Track Championships at the East Lansing Kart Track as well as several International Kart Federation (I.K.F.) National Feature Wins.
In 1980, Finley moved up to full size cars and began running in the Sportsmen division at Crystal Motor Speedway. In 1983, Finley moved up to Super Late Models and in 1985 won the Michigan Speedway Promoters Association (MSPA) Series Rookie of the Year honors while finishing second overall in the points standings!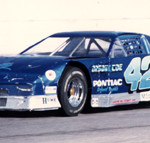 After winning two of his five total Track Championships at his home track of Spartan Speedway in Mason, Michigan, Finley moved down to North Carolina in 1991 and competed at the historic Concord Motorsports Park where he finished second in points in the tracks premiere division, Super Late Models. The following season, he moved back to Michigan and resumed his stellar career driving Super Late Models in his home state.
Over his career, Finley has won over 100 Features and collected seven (7) Track Championships at three different facilities. His home track of the Spartan was where most of his success occurred. Finley scored five (5) of his Track Championships there in 1986, 1990, 1993, 1995, and 2001.
In 1990, Finley won a title three different facilities when in addition to his Spartan Track title he also scored the Super Late Model Track Championships at Owosso Speedway as well as Michigan Ideal Speedway. That season, Finley won an amazing 17 Features between the three tracks!
Some of Finley's memorable Feature Wins include a MSPA race at Owosso Speedway in 1985, back when the track was still a wicked fast ½ mile high-banked dirt oval. Finley held off dirt track legends such as Michigan Motorsports Hall of Fame drivers and former MSPA Champions, Kris Patterson, Frank Seder, and Bob Kingen in one of the most exciting races ever on the historic ½ mile dirt track. Finley is also a two-time winner of the Harvest 100, traditionally held at Spartan. He won those races in 1986 and 1987.

In addition to his weekly short track accolades, Finley was also a stout competitor in the ARCA RE/MAX Series as he ran full schedules between the 1997-1999 seasons. He also raced partial schedules at various points between the 1992-1996 seasons and again between the 2000-2001 campaigns.

Over a 67-race ARCA career, Finley picked up one Feature win, which came on the one-mile dirt track of DuQuion State Fairgrounds in DuQuion, Illinois in 1999. He finished seventh in points in 1997 and in 1998 by brought home a sixth place finish in the final points.

Finley also collected one Pole Award, which occurred at the tricky Shady Bowl Speedway in DeGraff, Ohio during the 1999 season. In addition to his one win, Finley also racked up 24 Top Five finishes and 38 Top 10 showings in his ARCA career.

The DeWitt, Michigan veteran also raced in one NASCAR Busch (Now Nationwide) Series race in 1999 at Daytona International Speedway in Daytona Beach, Florida in a car fielded by Ed Rensi! Finley finished 13th after starting 31st in the NAPA Auto Parts 300 which was won by former series champion, Randy LaJoie.

Finley also has one career start in the NASCAR Craftsman (Now Camping World) Truck Series in 2002. He finished 26th in the Advance Auto Parts 250 at Martinsville Speedway in Martinsville, Virginia driving for James Bailey and the Bailey Excavating Team. That race was won by Trucks veteran, Dennis Setzer.
The now 46-year-old retired from driving in 2005 to concentrate on his son, now 18-year-old Chad Finley's budding career. Jeff did return behind the wheel for one race in 2008 during the Harvest 100 at Spartan Speedway where he finished fifth. His son, Chad finished third, and his older brother, Doug finished fourth in the same race!

For the 2010 racing season, Chad will make select appearances in the ARCA Racing Series Presented by RE/MAX and Menards with his Car Owner and Father behind him every step of the way. In addition, Chad will also compete in several Outlaw Super Late Model races all over the state of Michigan and Ohio at such tracks as: Berlin Raceway, Dixie Motor Speedway, Owosso Speedway, Spartan Speedway, and Toledo Speedway.